165 Capitol Avenue – Interior
Converting Connecticut's State Office Building, the new home for Constitutional Offices, into a vibrant, modern 21st-century workplace, saves a significant building and plays a pivotal role in an urban plan that stitches historic downtown district assets to a one-mile chain of parks, plazas and the renewed Connecticut River waterfront. Designers utilized multiple strategies to return this c. 1931 building to its grand place in Hartford's Capitol District.
A two-story marble lobby is fully visible through full-height glass curtain walls connecting the park through the grand lobby, first courtyard, cafeteria and second courtyard. The upper lobby level is accessed by a grand stair, connecting to a bridge spanning the lobby width. The sunken courtyards within the double donut-shaped structure were raised six feet, making them accessible to ground-level cafeteria and meeting rooms.
The building's ceremonial and heavily ornamented areas were restored faithfully. An example is the historic hall with its coffered plaster ceilings, marble colonnade, limestone walls, and brass gates, State seal, and mail chute.
While some of the staff of the Attorney General, Secretary of State, Treasurer, State Comptroller still demand a more conventional office setting for focused work, the renovation removes many of the tiny offices lining double-loaded corridors and opens the space to include collaborative work areas, sit/stand desks and amenities encouraging social interaction and distancing, with desks spaced 6 feet apart. Workspaces, conference and training rooms, and the cafeteria adopt an industrial modern style, exposing the original terra cotta floor formwork and brick walls where possible. To facilitate wayfinding, floors within the seven-story, 350,000-square-foot office are branded by compass points, with each of the four building sides distinguished by different color accents.
The landscaped courtyards, as well as the new urban park, are branded by two-toned granite pavers, laid in a pattern representing the Connecticut River, from source to mouth. Inside, the lobby's side walls are canted, reminiscent of a riverbank. The cafeteria's vertical screen folds like watery ripples. The courtyard's concrete landscape retaining walls, or "riverbank," undulate in a wave-like curve.
AIA Connecticut Elizabeth Mills Brown Preservation Merit Award
Connecticut Building Congress Project Team Awards – Merit/Civic
2021 ENR New England Awards – Government/Public Building – Best Project
AIA Connecticut Sustainable Architecture Awards – Renovation/Adaptive Reuse – Merit Award
AIA Connecticut Business Architecture Awards – 50 Employees and Over – Merit Award
AIA Connecticut Design Awards – Institutional – Merit Award
Interior Design Best of Year Awards – Government/Institutional – Project Honoree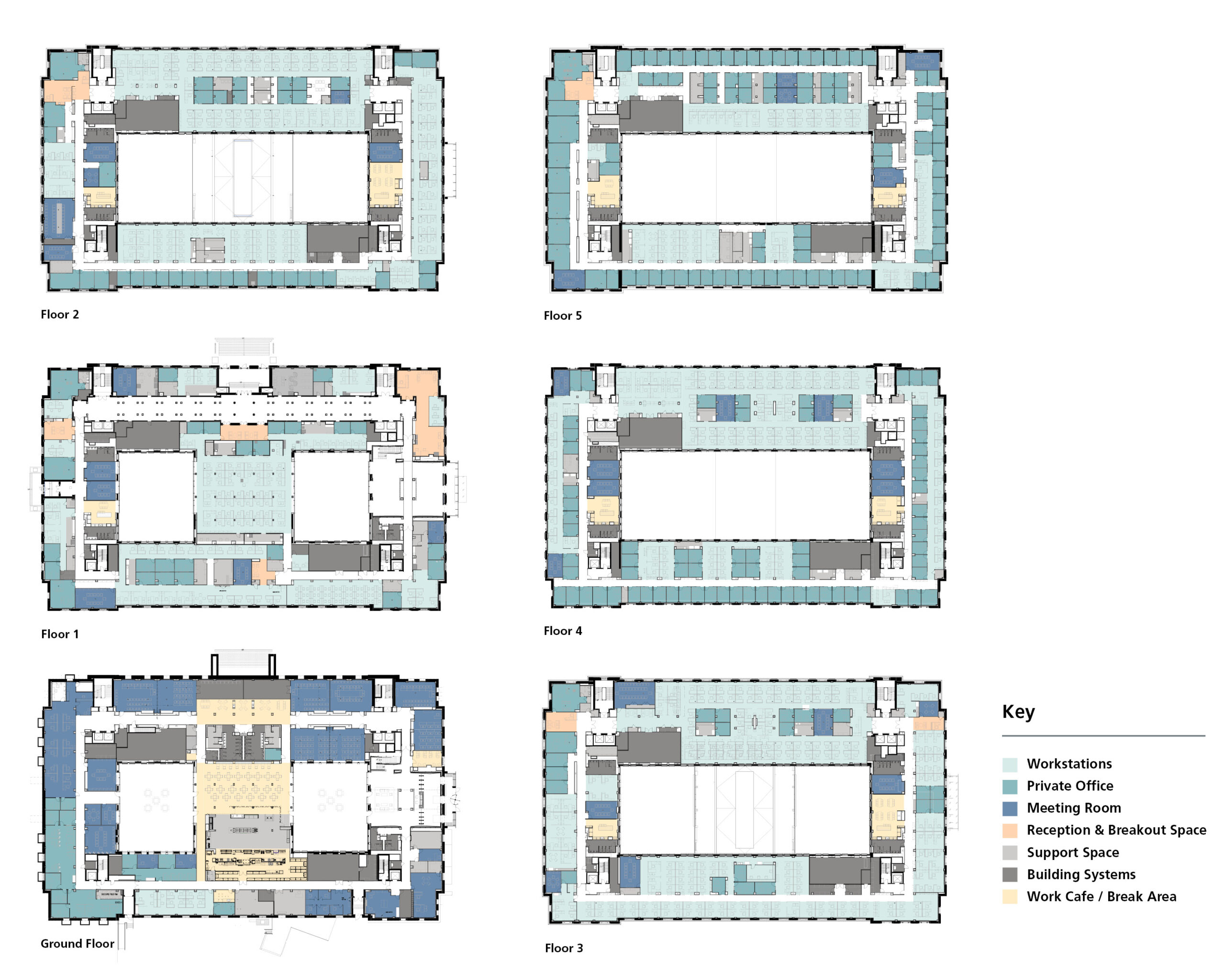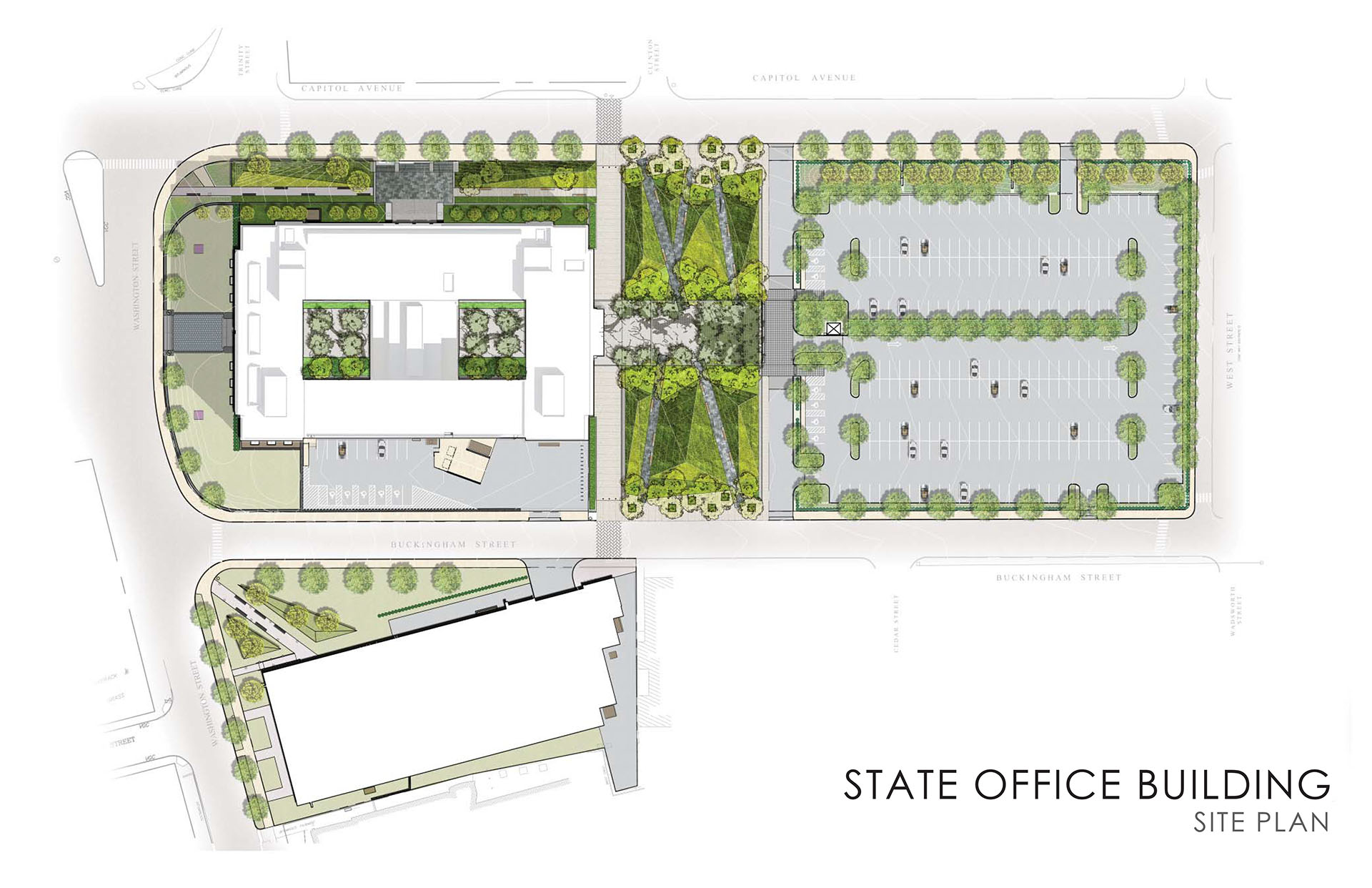 This project is a beautiful example of the value of preserving an older building while incorporating high performance, sustainability features, and creating beautiful spaces.