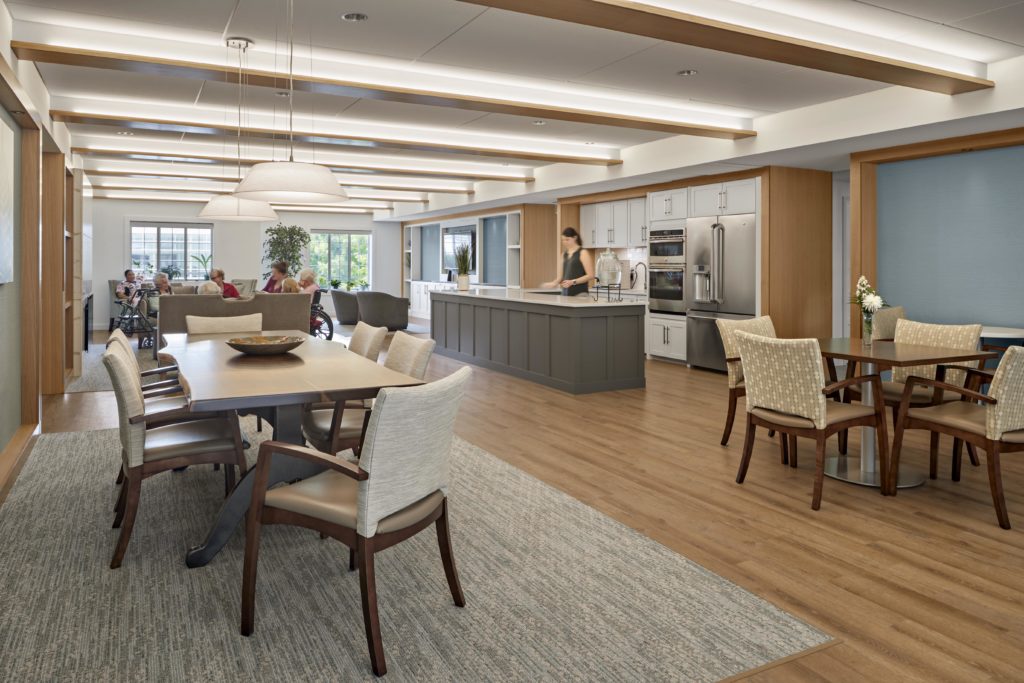 Research is critical to good architectural design, not only when it comes to materials and processes, but to understanding deeply just how our work affects clients and users. Perhaps nowhere is this more important than in designing facilities for seniors, particularly those suffering from dementia or memory issues. New practices and theories are constantly being updated. Not only do we try to keep up with the latest medical research, we learn important lessons from staff and patients who are living and working in our designs day in and day out.
When asked to design a new memory care project for Avery Heights in Hartford, CT, the program was to take 10,000 sf of existing independent living space, fit as many resident rooms in as possible, and make sure to leave ample space for activities, dining, a small kitchen, and living room in a "small house" model. A "small house" traditionally accommodates 10-15 rooms. Based on our research and experience, we felt we could stretch this to 20 resident rooms, as well provide as ample common space. Clearly there was a need. The rooms were full within the year.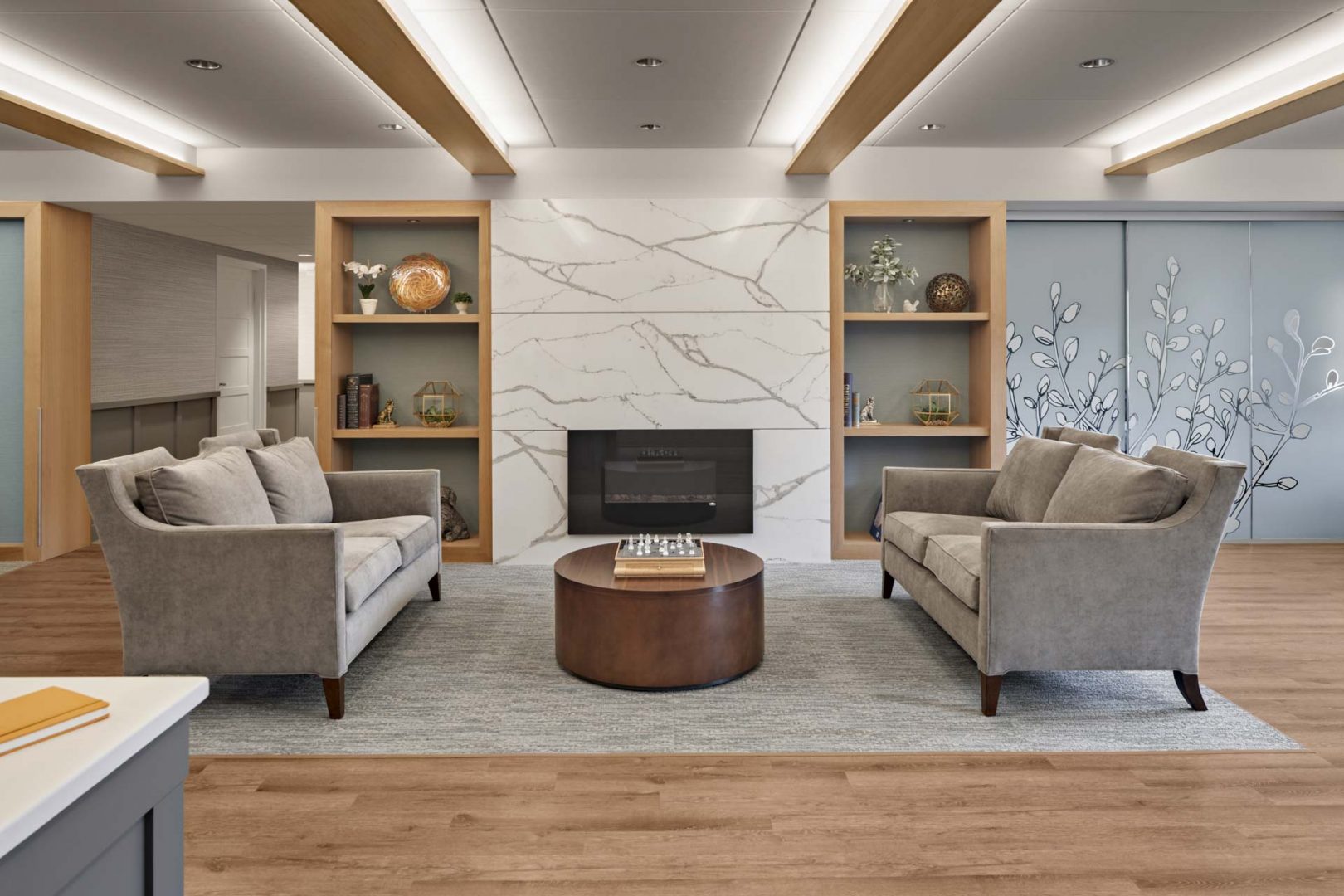 To assure the "small house" didn't become too big, we made deliberate design decisions to keep the scale residential, such as the inclusion of spaces both for socialization and private reflection. We broke the open great room into five zones (communal dining, intimate dining, country kitchen, fireplace, and TV/book nook), while also maintaining a flexible, light, and open feel for larger group activities. We included a separate but visually connected room for quiet reflection and down time to include aromatherapy and soothing music and outfitted with cozy furniture. We also integrated a discreet entry sequence for visitors to prevent patient distraction, and a two-zone outdoor garden space visible to staff from the common space for both social and reflective activity. We felt confident these were good decisions, but there is nothing like a post-occupancy review to understand how the space would work and feel filled with 20 residents with different levels of dementia and needs.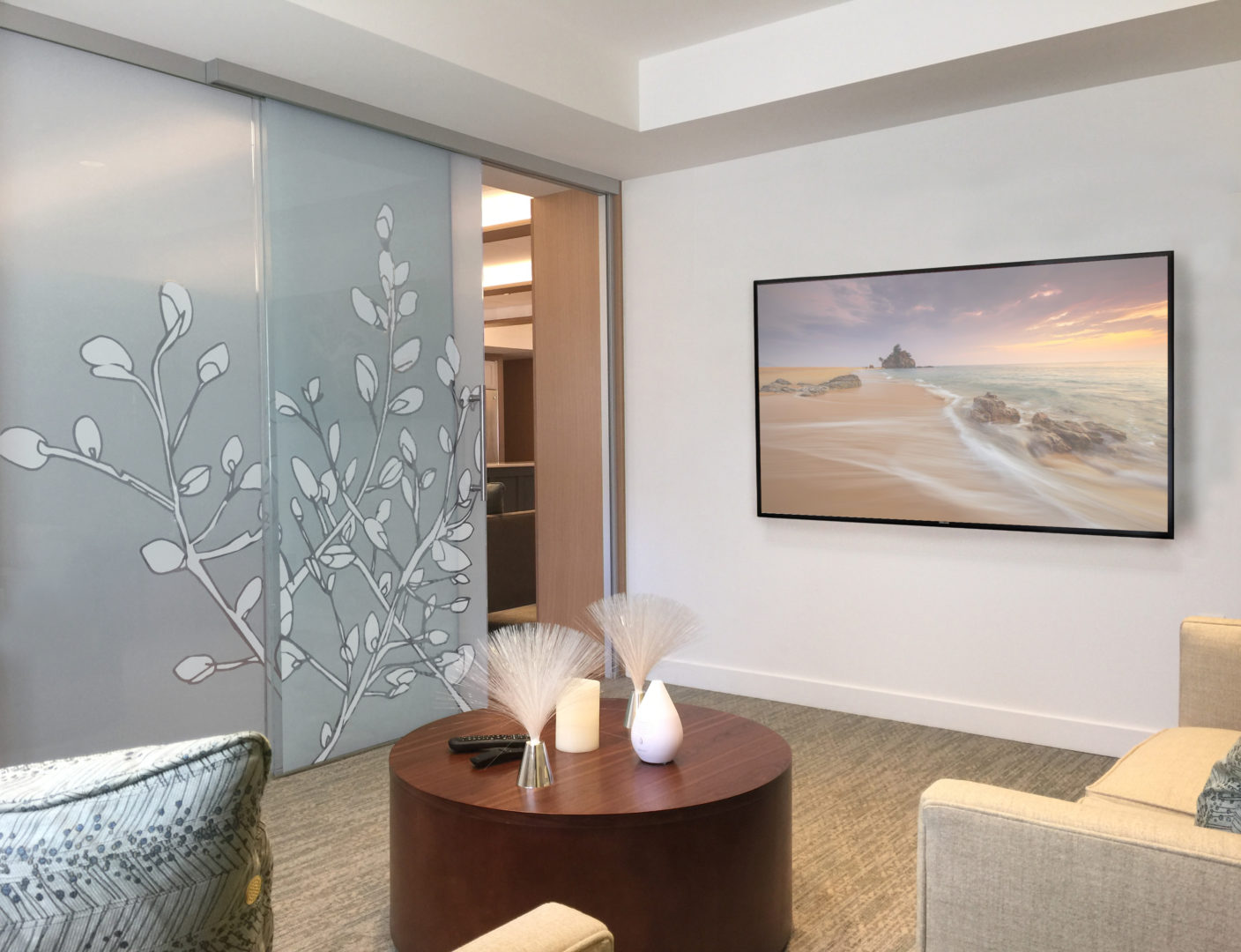 Bill Englehart, director of independent living, invited us back to speak with Holly Taylor-Fry, director of the memory unit, and Kerrie Palumbo, R.N., as well as observe residents using the spaces. The Avery staff should be congratulated on the way they engage residents in both indoor and outdoor activities, thus maximizing their patients' well-being and the facility's potential. To our delight, feedback revealed the memory care unit was sized just right. Spaces got high marks for light, views to the outdoors, outdoor space, interior finishes, and a flexible dining area with its mix of table sizes, perfect for eating and activities. We concluded there is a lot to say about open, flexible spaces rather than having small rooms dedicated to specific activities or tasks.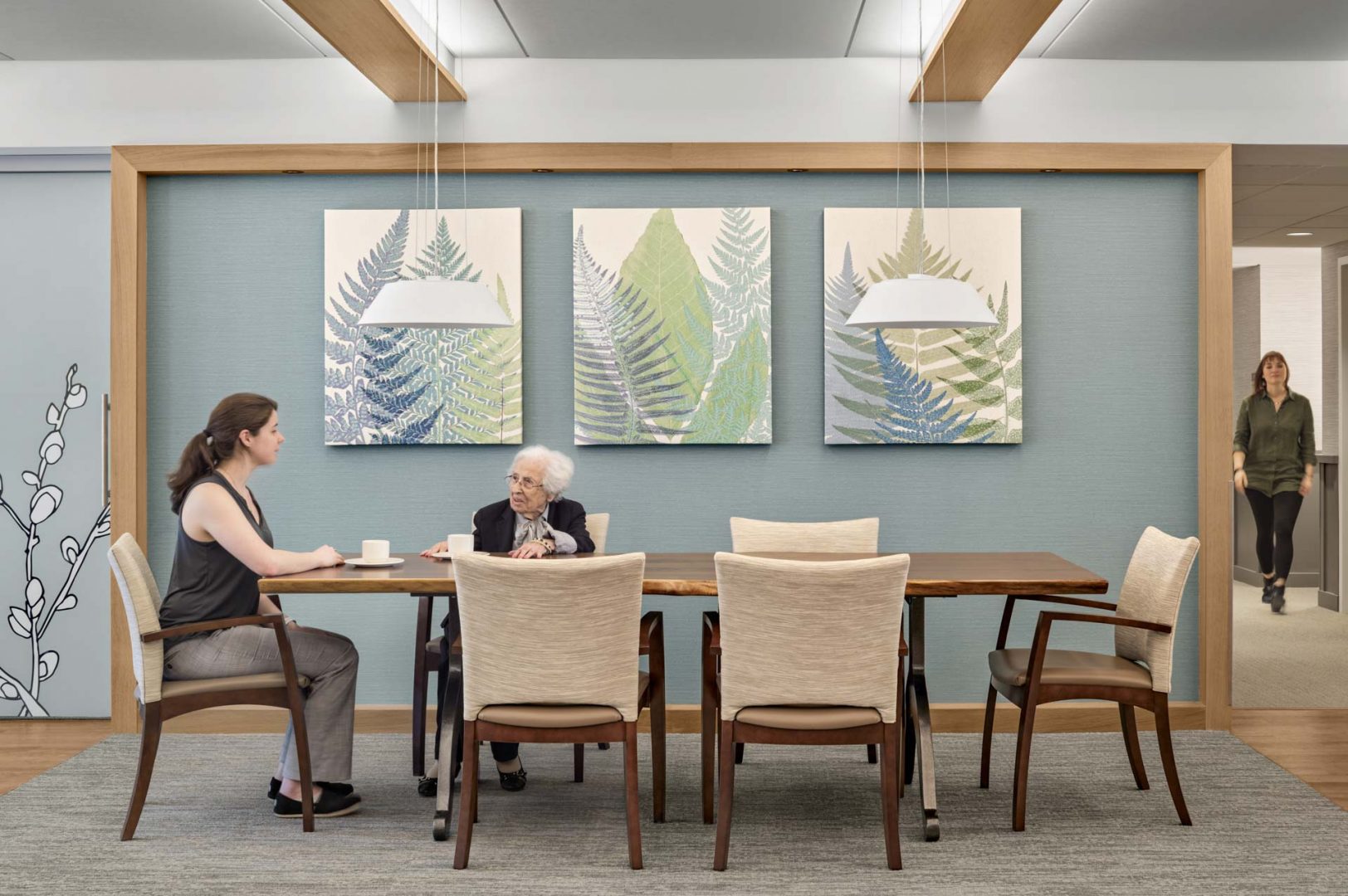 But sometimes, the devil is in the details. For example, we chose a bright white fence with open lattice at the top to surround the memory garden. We were surprised to learn that residents sometimes confuse this with snow. A natural wood fence, blending with the landscape, is a better choice. We also need to right-size the medicine cabinets in patient living areas. We had installed a cabinet with two doors: one side accessible to patients who need access to toothbrushes, etc., the other side locking for medicine. Families often buy over-sized bottles of vitamins and other things from big-box stores, and these simply don't fit, causing frustration. While this issue may seem small, it is important to patients, families and staff.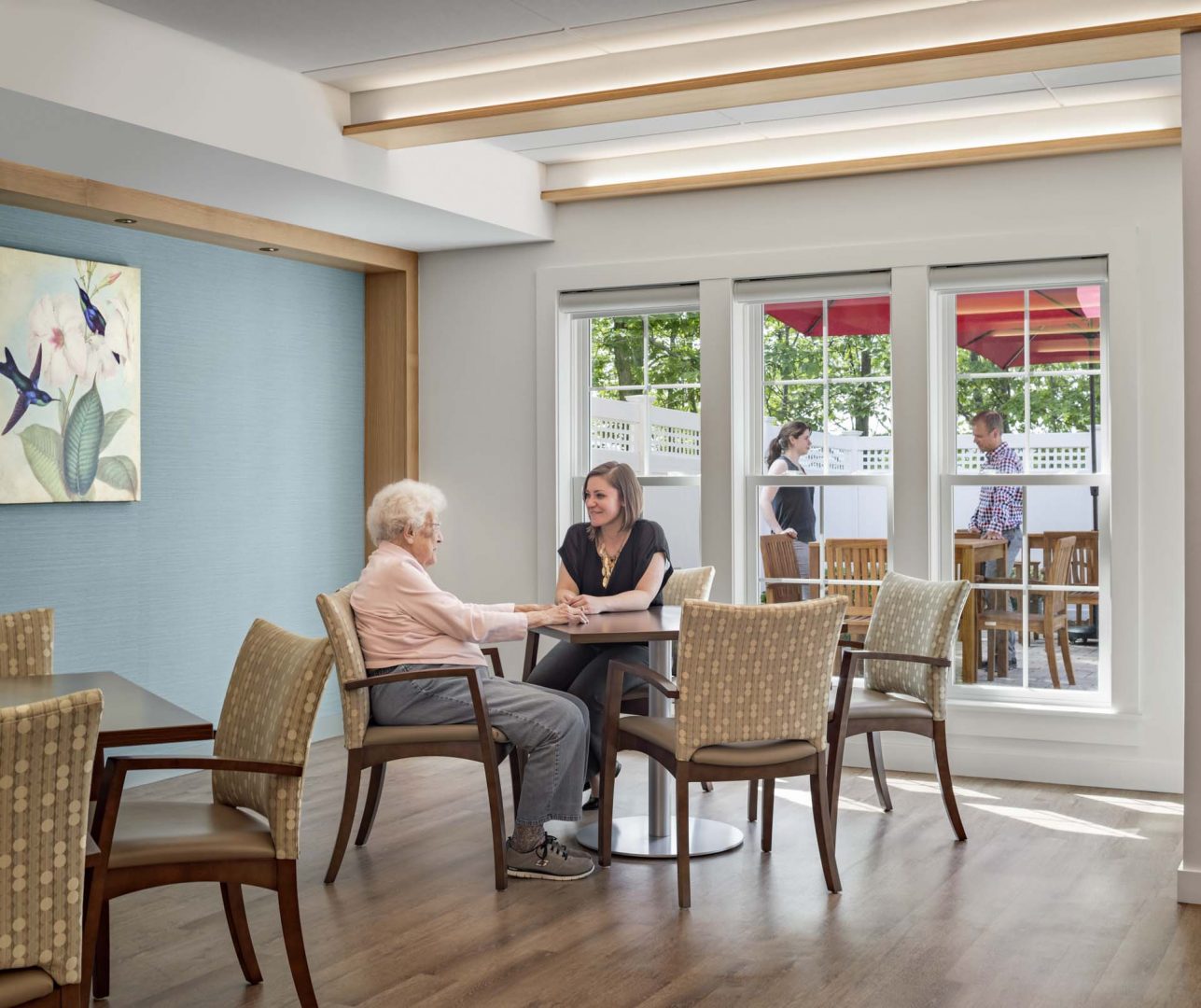 Designing for specialized facilities like these isn't just about room size, light, and finishes. It's about people. That is always our higher calling.