I love cities. I love that they have lives, spanning centuries, and evolve to accept change. Boston is one of those, and one of its shiniest new neighborhoods is testament to vibrant adaptive use. Once a thriving port, accepting shipments of wool and leather to feed textile factories in the early 20th century, the area declined into a series of abandoned warehouses and acres of parking lots in the '90s.
But then, signs of life! The Federal Courthouse was the first entity to stake a claim. A new Boston Convention and Exhibition Center opened in 2004, followed by the Institute of Contemporary Art in an iconic new space designed by Diller Scofidio + Renfro architects. The Big Dig buried the elevated Central Artery, finally connecting Seaport to the rest of downtown. Then-Mayor Tom Menino launched the "Innovation District" initiative in 2010 to create a technology hub, and a July 2012 article in Boston Magazine called Seaport "a hotbed of urban infill".
Developers and companies took notice. Today, Seaport is home to Vertex Pharmaceuticals and the software company PTC, as well as Reebok's new global headquarters, with Amazon soon on the way – having leased 430,000 sf of office to be built in the district. Luxury high-rise apartments, condos and hotels dot the landscape, as Seaport anticipates a population of nearly 27,000 people at total build out.
The Seaport's newest hotel taking shape.
Seaport developers have taken their share of criticism through the years about one thing or another: the streets are too wide, the buildings too far apart to create community, there is no local buzz. BISNOW, which publishes commercial real estate news and organizes events like the April 25 "Boston Seaport Annual Conference: How Developers and Designers Are Shaping Boston's Neighborhoods," helps keep a finger on the pulse. This year's event dealt with a question the Boston Globe asked on April 10, 2015. "Will the Seaport District Ever Have the Soul of a Real Neighborhood?"
When Amenta Emma made the decision to move an office from Cambridge to Boston, we chose Fort Point, adjacent to Seaport. Our neighborhood is populated with 100-year-old buildings, adapted to offices, creative studios and lofts. It is the opposite of Seaport's glass and glitter. Since I am witnessing Seaport's transformation on a daily basis, I was curious about what developers would say about the neighborhood question, so I attended.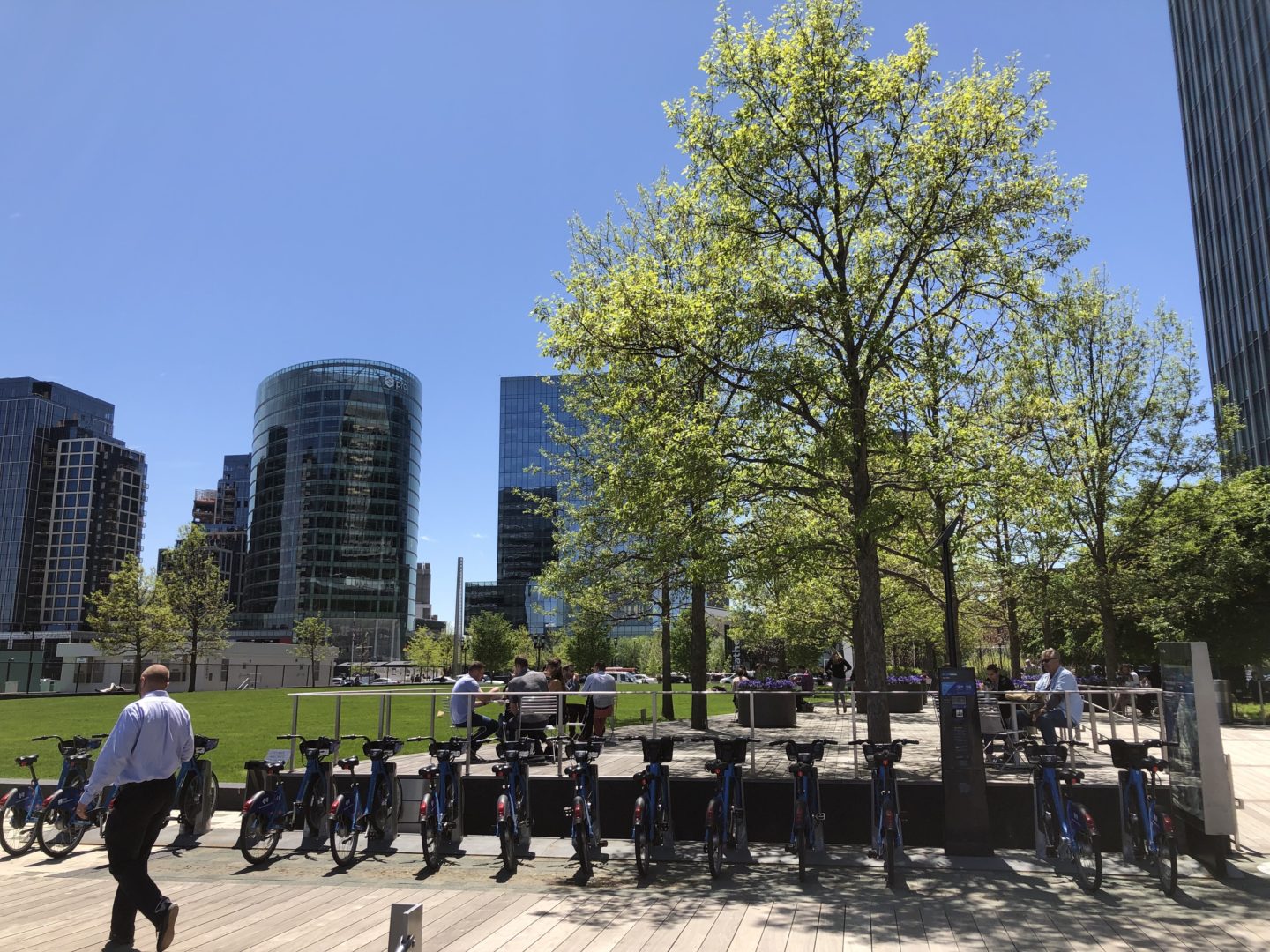 Public green space at Fan Pier.
In my opinion, neighborhoods typically have a few ingredients that make them successful: space that is dedicated to the public realm – these spaces need to be designed and programmed successfully to incorporate a mixture of green and hardscape, and they must be easily accessible. Second, it is important that the architecture of the neighborhood is well-planned and considers the human scale, something comfortable and lively for pedestrians. Lastly, the mix of tenants needs to include local businesses to create a true neighborhood vibe. Although there are rumblings of change, it is hard for a true neighborhood to exist without tenants such as a grocery store.
Seaport conference presenters touted the new HarborWalk linear park, connecting Summer Street to Boston Harbor. When some attendees suggested local retailers were being priced and locked out, one panelist talked about dedicating some retail space to pop-up shops. I personally have noticed an influx of outdoor programming in the form of beer gardens, and various other activities in Boston. Going forward, it will be important to provide environments and programming that engage people of all ages.
Public plaza off of Seaport Boulevard.
The strongest presentation, as reported in a follow-up report by BISNOW, was given by Chris Jamison, CEO of the development company COJE. "What's going to define the Seaport three to four years from now is the willingness of developers to take a risk on local operators and not just chase credit tenants. It's about taking a step back and asking, 'How do we take this corner of the city and make it a neighborhood?'" Calling the current development boom Seaport 1.0, Jamison, whose firm is behind Boston restaurants like Lolita and Yvonne's, expects Seaport 2.0 to have more authenticity from local groups being able to come in and take space from some of the national retail tenants that haven't performed as well. But even Jamison recognized the Seaport's original wave of homogenous designs all comes down to dollars and cents, BISNOW reported. "When you pay a lot for the land and it's as expensive to [build] in Boston as it is, you have to underwrite those numbers," he said. "But it's going to be incumbent on the next round of developers to think if they can take a $10 hit on rent and create a real neighborhood."
For a designer like me, it is a once-in-a-lifetime experience to be able to witness the transformation of a neighborhood like Seaport. Our Amenta Emma office is sitting ringside. It excites me to think of the power of design to contribute to the success of a new use for an old Boston area. It is what makes cities great.