Amenta Emma had the distinct pleasure of working with staff and administrators on the design of CREC Discovery Academy, a regional magnet school for STEM education in Wethersfield, CT. The property, selected because of the abundant wooded landscape, included 3 abandoned utilities buildings. After remediation and abatement, the site was ready for its wonderful new purpose. When the doors opened in September 2015, Discovery became a model of sustainability, including opportunities for hands-on education in the sciences.
Five years later, it is a delight to see how original strategies are being integrated daily and how the school has expanded upon those to become a model for interactive sustainable technologies, both inside and out. The school reopened for in-person learning in late August 2020.
Some highlights:
Solar panels and a solar farm now occupy part of the property, with interactive recording devices that inform students, parents and the broader community. The school's Solar Photovoltaic System*, as described on its web site, consists of nine ground-mount arrays located adjacent to the school parking lot and four solar trees located in the front of the school. The ground mount arrays comprise 624 poly-crystalline solar panels with a nameplate rating of 156.0KW AC. The four solar trees comprise 48 translucent monocrystalline panels with a nameplate rating of 12.0KW-AC. The solar PV system utilizes an Enphase Energy microinverter platform with each solar module producing AC power directly from the solar module. The solar photovoltaic system is expected to produce approximately 200,000 kilowatt hours annually, or the equivalent of 22 homes' annual electricity consumption. The environmental benefits of the system equate to avoiding in excess of 16,000 gallons of gasoline burned annually or 30 cars on the road (data provided by the U.S. EPA Greenhouse Gas Equivalencies Calculator).

Check out the website that tracks the performance of the panels. (If you click the refresh button next to the lightbulb, you can see the types of things you could power based on the energy produced by the panels, ex. lightbulb, battery, cell phone, Eiffel tower.)
Shading devices employ passive solar strategies. They are playful and interactive.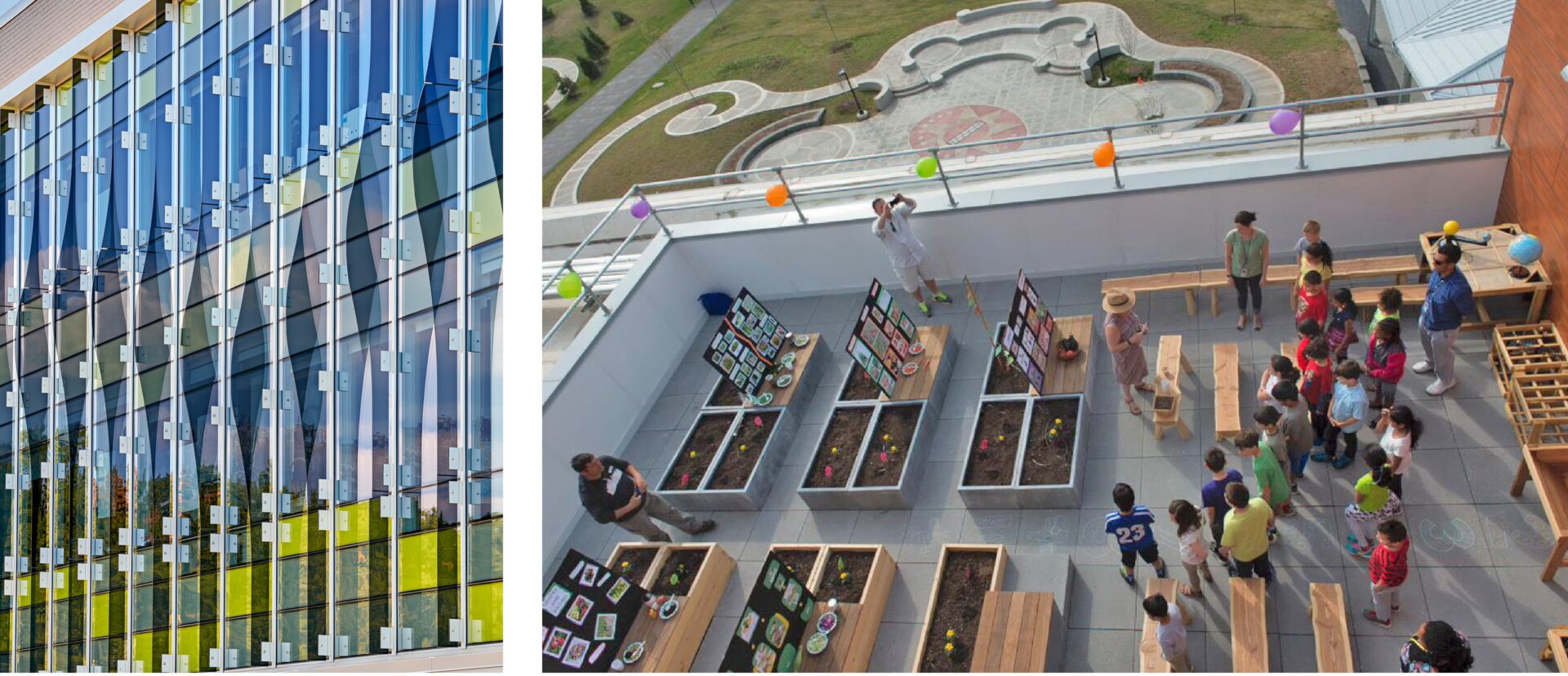 Rooftop Garden image courtesy of the Hartford Courant.
A Rooftop Garden not only teaches students about growing their own fruits and vegetables, they get to sample their own produce on Earth Day each year. When schools were forced to close for Covid in the early months of 2020, 1,500 seed packets were mailed to 380 families, and students were encouraged to share photos of their harvest.
A Weather Station, incorporated in April 2018, now resides in the roof garden. It tracks details of the weather and rainwater collection for all to see.
A butterfly garden has been declared an official "schoolyard habitat" by the National Wildlife Foundation.
Photo from Discovery Academy STEM Blog
Outside learning spaces include not only the rooftop garden, but an amphitheater, labyrinths, a gathering circle under a signature oak tree, a sundial, a rain garden, planting beds, nature trails, boardwalks and bridges. The rain garden and a bioswale are used for student research. These spaces also have proven invaluable during the pandemic, offering students fresh-air learning spaces.
Photo from Discovery Academy STEM Blog
Discovery Academy is a wonderful example of ways sustainability lessons can be incorporated into design and curriculum. CREC's clear goals, paired with creative strategies from the Amenta Emma team, have combined to challenge learning in an interdisciplinary and interactive environment.