Beth Pearcy, AIA, CPCH, LEED AP BD+C, leader of Amenta Emma's Sustainability team and co-chair of the BSA Committee on the Environment, will be sharing her knowledge and some of AE's Sustainability practices throughout the month of April.
A quick note before I get to the fun stuff. When we use the term "carbon" in relation to climate change and sustainability, we are talking about carbon equivalents. All greenhouse gas emissions are converted into one metric, carbon dioxide, based on their global warming potential. This allows us to evaluate the climate effect through a standard metric.
In our social media posts over the past month, we have talked about Amenta Emma's commitment to the Architecture 2030 Challenge. This is a world-wide framework for rapidly transforming the built environment's role in the production of greenhouse gas (GHG) emissions by reducing operational carbon through energy efficient design.
But there are two ways that the built environment contributes to climate change, operational carbon and embodied carbon. Before a material arrives on a jobsite, it has already produced greenhouse gas emissions through material extraction, transportation, processing, and various other processes. The sum of all the emissions before the material assumes the form that we are familiar with is considered embodied carbon.
Operational carbon used to account for the majority of emissions, however that is quickly changing. This means the work that so many architects and engineers are doing to reduce emissions by designing buildings that utilize less operational energy is working. As operational carbon is reduced, embodied carbon starts to account for a larger percentage of total emissions. So, to fully address climate change by reducing emissions that cause global warming, we must address embodied carbon.
How are we doing this amazing thing and reducing embodied carbon, you ask?
One way is by using less new stuff and instead reusing old stuff, like really good leftovers. As mentioned in a previous post when I talked about our Connecticut Innovations project, the building with the smallest carbon footprint is the one that already exists, or even better, the one that doesn't exist. Adaptive use projects like Connecticut Innovations or the Connecticut State Office Building renovation, are examples of projects that reduced embodied carbon through the reuse of materials. Concrete and steel alone account for more than 20% of annual global emissions, so being able to reuse the structure of an existing building, which is usually all concrete and steel, makes a huge difference in the total embodied carbon.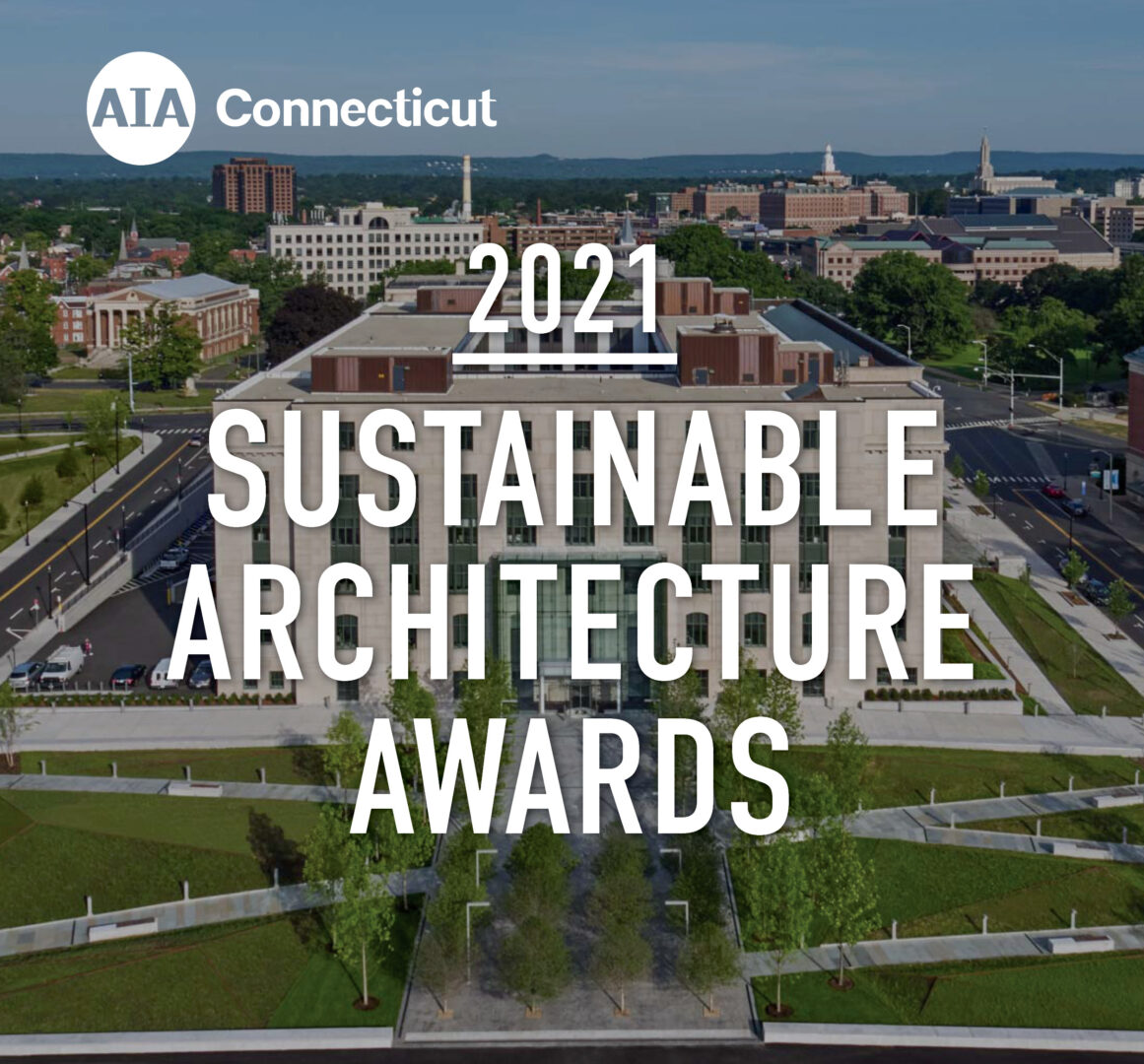 Behind concrete and steel, aluminum is another material with a huge carbon footprint. Reducing the amount of materials is another way we can reduce our embodied carbon. By designing to the size module finish materials we reduce waste. We also reduce our carbon usage when we simply don't use a material, most commonly we encounter this in floors and ceilings when we use polished concrete floors instead of putting flooring over the concrete and when we leave ceilings open to the structure instead of covering it with a ceiling. Both scenarios eliminate a material and therefore reduce the embodied carbon of the building.
On the opposite end of the embodied carbon spectrum, we have wood. Wood actually removes carbon from the atmosphere instead of adding to it. I know, right?! Who knew wood was so cool?
The carbon that is removed when wood grows can offset the carbon that is added through manufacturing and transportation and in some cases have a net negative carbon footprint! These are materials like cross-laminated timber, mass timber, and wood studs can replace steel and concrete that is used for structural elements.
At Amenta Emma we believe that we can make a big difference from making little changes and we strive to work together to understand how our designs impact the environment. On Monday mornings we have a company-wide meeting to kick off the work week. As part of these meetings, a Sustainability Team member will do a short "trade-off presentation" where we share one small trade-off that we can make in a project design to reduce our environmental footprint. Some of the things we have talked about in recent weeks is adding fly-ash to concrete, using bio-based flooring, and alternatives to common insulations. Being mindful about how the spaces we create and the materials we select impact our world and our future is an important piece of the Amenta Emma mission.