Jefferson House Hitchcock Wing
In biophilic studies, using wood in interior finishes can have a stress-reducing affect and improve emotional states. It is wood that sets the tone for the newly renovated common area of the Hitchcock wing of the Jefferson House. Jefferson House is part of the Hartford HealthCare system that provides long-term care and rehabilitation services for Hartford area seniors. Wood acts as a calming, soothing element and leads residents through the new space to a lovely outside patio.
Formerly, the open area of the wing was dark and closed in. To create something more homelike and bright, designers began by removing walls to capture space and light and improve circulation. The shower space was re-envisioned as a larger space with two zones and a spa-like ambiance, including a rainhead shower replacing an old tub. Ceramic tile that looks like wood contrasts with a more neutral color to define the different areas. A dining area and adjacent kitchen engage residents in shared activities like cookie baking. A sitting area sports a cozy electric fireplace. The ends of all the corridors have windows to the outside wooded lot.
A wood ceiling wraps from one end of the space to the other, pointing residents to a well-shaded patio that replaced an overgrown indoor greenhouse. The ceiling, with its felt backing and tiny perforations, boasts a high sound absorption value. A custom wood wall feature represents the native inkberry plant, a relative of the holly tree.
Overall, finishes provide good contrast, improved lighting, and a simple, easy-to-understand layout. A centrally located, an inclusive designed two-tiered nurse's station makes it easier for residents to interact with staff. The changes make the space more inclusive for residents with a variety of physical or cognitive impairments.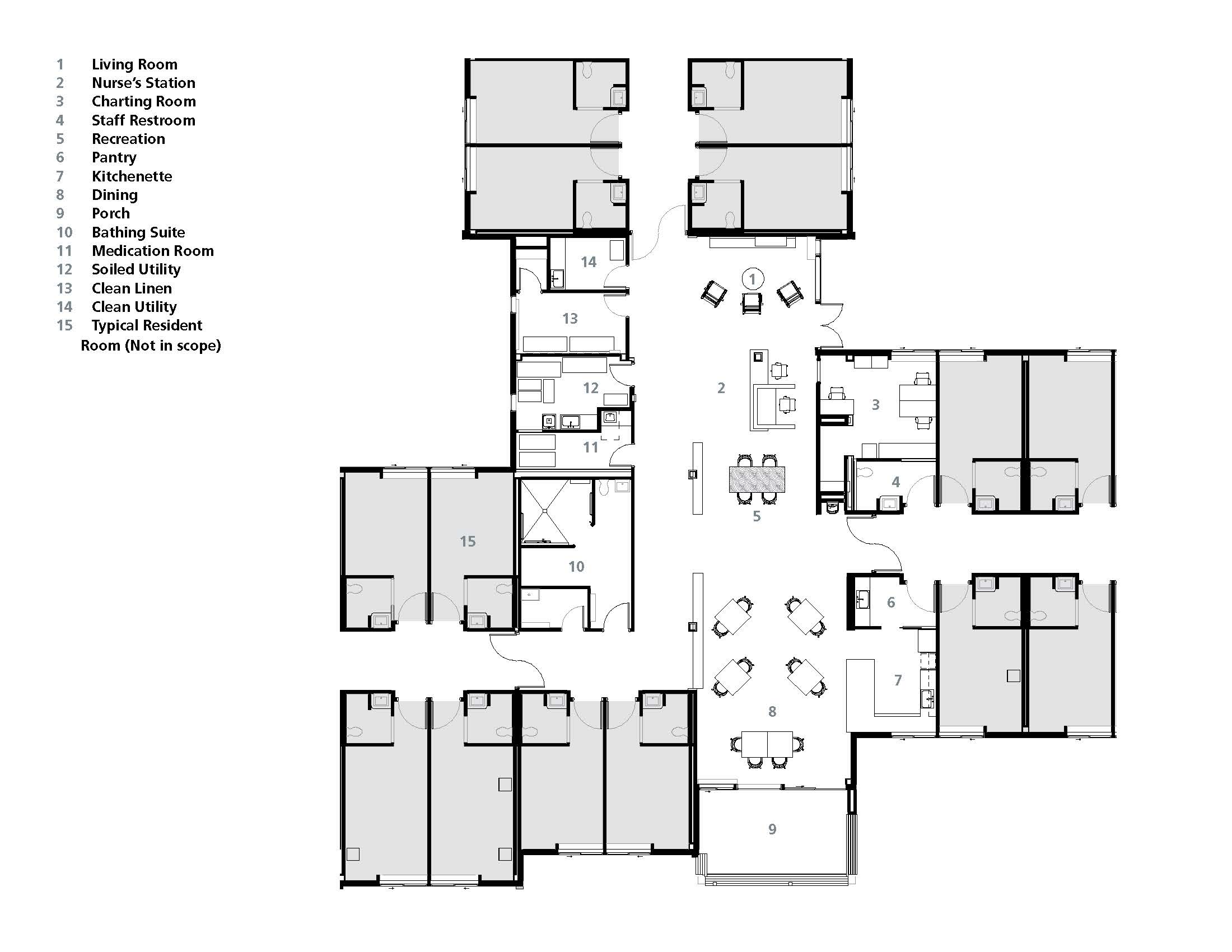 It's electrifying when you walk through this newly renovated Hitchcock unit. The design is fresh and invigorating. The surroundings match the culture of care and the staff here at Jefferson House.