With vaccine roll-out in high gear, it is time to consider our return to the office. What will that look like? Full staffing? Hybrid models? Changes in workplace design? One thing is certain: pandemic lockdowns have changed our perception of what an office should be.
Comforts of Home
There is no question that working from home has had challenges: children engaged in remote schooling, barking pets, household members conducting business simultaneously, internet connection issues and multiple other interruptions. Still, home has major benefits for work. It is safe and welcoming. It's comfortable, warm, light-filled and familiar. There is no daily commute. Those attributes increase productivity. The new workplace should embrace and improve upon these benefits.
Color will play a critical role. Colors that create a sense of calm and a positive outlook, while reinforcing our need to be connected to the outside environment, will nurture well-being. Color sets the "tone" for a successful workplace and supports a positive and rejuvenating space.
Comfortable and inviting seating will connect us with home and provide opportunities to engage with others in new ways. A casual living room setting might foster a more open conversation with prospective employees and clients than stiff seats around a conference room table. This "Resimercial" approach, with thoughtful selection of accessory furniture, materials, lighting and other design elements, will inspire employees and guests and put people at ease.
Safety First.
Home feels safe because we control that environment. While the workplace doesn't offer that the same degree of control, it is possible to create a safe environment by managing what we can control.
"Clean" is key. Post-COVID office design will incorporate materials that are self-cleaning and environmentally safe. Antimicrobial and self-cleaning characteristics that limit bacteria growth, viruses and fungi are being used for workstations, countertops and seating. MicroSilver technology is being used in surfaces that emit silver ions for the lifetime of the material without ever wearing off.
Other office touchpoints are also of concern, as 80 percent of infections are transmitted by hands. Simple hardware solutions involve hands-free devices, while touch-operated hardware, such as doorknobs, may use Silver Ion wraps, reducing bacteria by 99.9 percent. Elevator buttons and other touchpoints can be covered with continuous self-cleaning skins. These technologies enhance, though not replace, a rigorous cleaning protocol.
Office air quality is critical. At home, you can open a window or take breaks outside. That's not as easy in an office. Some solutions to increase air quality, involve changing air filters from Merv 8 to Merv 13. More elaborate and effective upgrades involve bipolar ionization systems that work with existing HVAC systems to filter even more particles from the air.
Think Outside the Box.
Throughout the pandemic, we've been told to stay at least six feet away from others. In the office, do we separate workstations and general seating using that same metric? Some school systems already are challenging that rule, placing desks at three-foot intervals. Do we design a post-COVID workplace with less densification only to revert back to more densification if conditions improve?
The secret to "future-proofing" is flexible and adaptable spaces. Fewer physical walls and more space created by flexible, lightweight and adaptable furniture or movable elements enable the user to best organize space based on needs.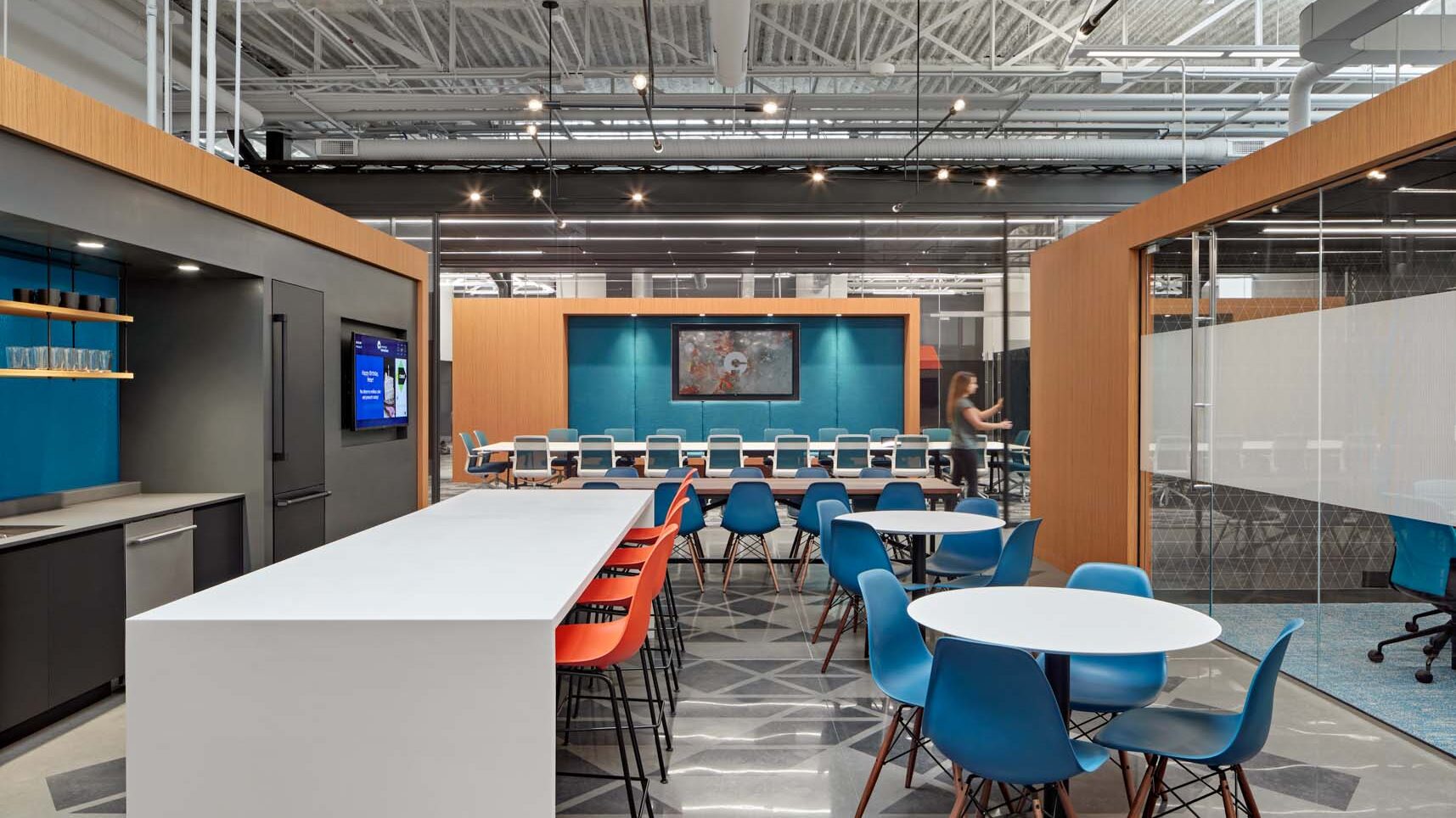 Moveable glass wall by NanaWall at Connecticut Innovations
"Free-address" workstations allow employees to share workstations in lieu of having permanent ones. This setup allows for flexibility in a hybrid workforce and reduces overall real estate needs. Creative orientation and configuration of workstations will keep employees socially distant now with the opportunity for greater densification later.
Private, heads-down areas will remain an important component of the post-COVID workplace. Solutions might include more phonebooth-type spaces, huddle rooms, virtual meeting rooms and small gathering places. Technology will continue to be critical, requiring small broadcast studios and open, collaborative areas that provide ways to connect virtually with others in a safe, relaxed setting. For privacy, fabric or metal curtains are totally flexible.
The reception area should multi-function as a high-tech welcome center for both guests and employees to include a check-in station for temperature checks, hand sanitizing, masks and dedicated floor surfaces to remove contaminants from shoes
Organizing the office into "districts" can allow teams to have all workplace functions grouped within one area while reducing the threat of entire-office contamination if a team member gets sick. Circulation paths will widen, not only to allow more distance between users but to make them functional for other uses.
The need to connect to nature through natural lighting, external views, ventilation and sustainable, earth-friendly materials will help reduce stress and enhance creativity.
No one can predict the future, but we have learned much this past year. We must rely on these lessons and our creativity to design environments that will attract talent, nurture employees, support a company's culture and its mission and make us want to leave home.