A new apartment community recently opened in the affluent community of New Canaan, CT, drawing praise from residents, town leaders and state legislators. The two L-shaped buildings frame a generous green space with outdoor amenities like a multi-purpose sports court, playground, community garden and sledding hill. Inside units have large windows with commanding views, 9-foot ceilings, kitchen islands with Quartz countertops, laundry hookups and private balconies.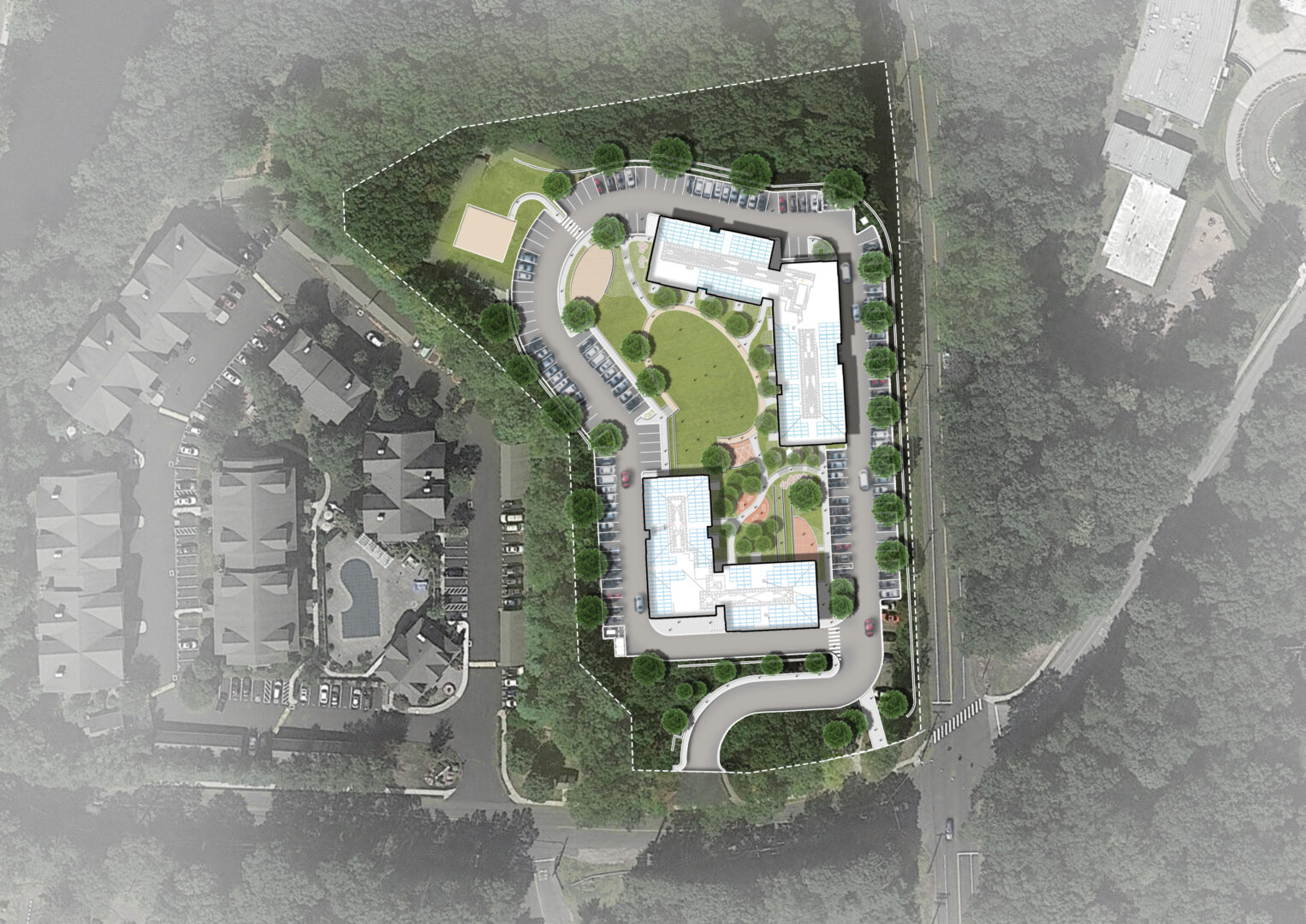 The Design Concept focused on a central courtyard enclosed by two opposing L shaped 4 story apartment
buildings with openings at the corners framing views to the lake and woodland beyond.
It is located across from an elementary school with a continuous sidewalk connecting it to Mill Pond Park, and also walkable (one mile) to a vibrant downtown and a train station. It is called Canaan Parish, and it is an affordable housing community. David McCarthy, president of Heritage Housing, Inc., who served this project as a development consultant with expertise in low-income housing tax credit developments, says it is a model for what can be.
Too often, affordable housing is a tough sell. But a project done well proves good design can be successful within even tight budgets and brings added benefits of diversity, economic growth, and environmental sustainability to communities.
Connecticut has a law, "8-30g," which developers can use to sidestep local zoning rules if a town does not have at least 10 percent affordable housing options based on state median income levels. In towns like New Canaan, where land and construction are expensive, it is challenging. By making progress toward that goal, towns can earn a four-year moratorium during which the rules cannot be used against them. The new Canaan Parish greatly helps toward this goal by accommodating its original Section 8 voucher population, 60 units, as well as 40 additional apartments available to those earning 60- to 80 percent of the state median income.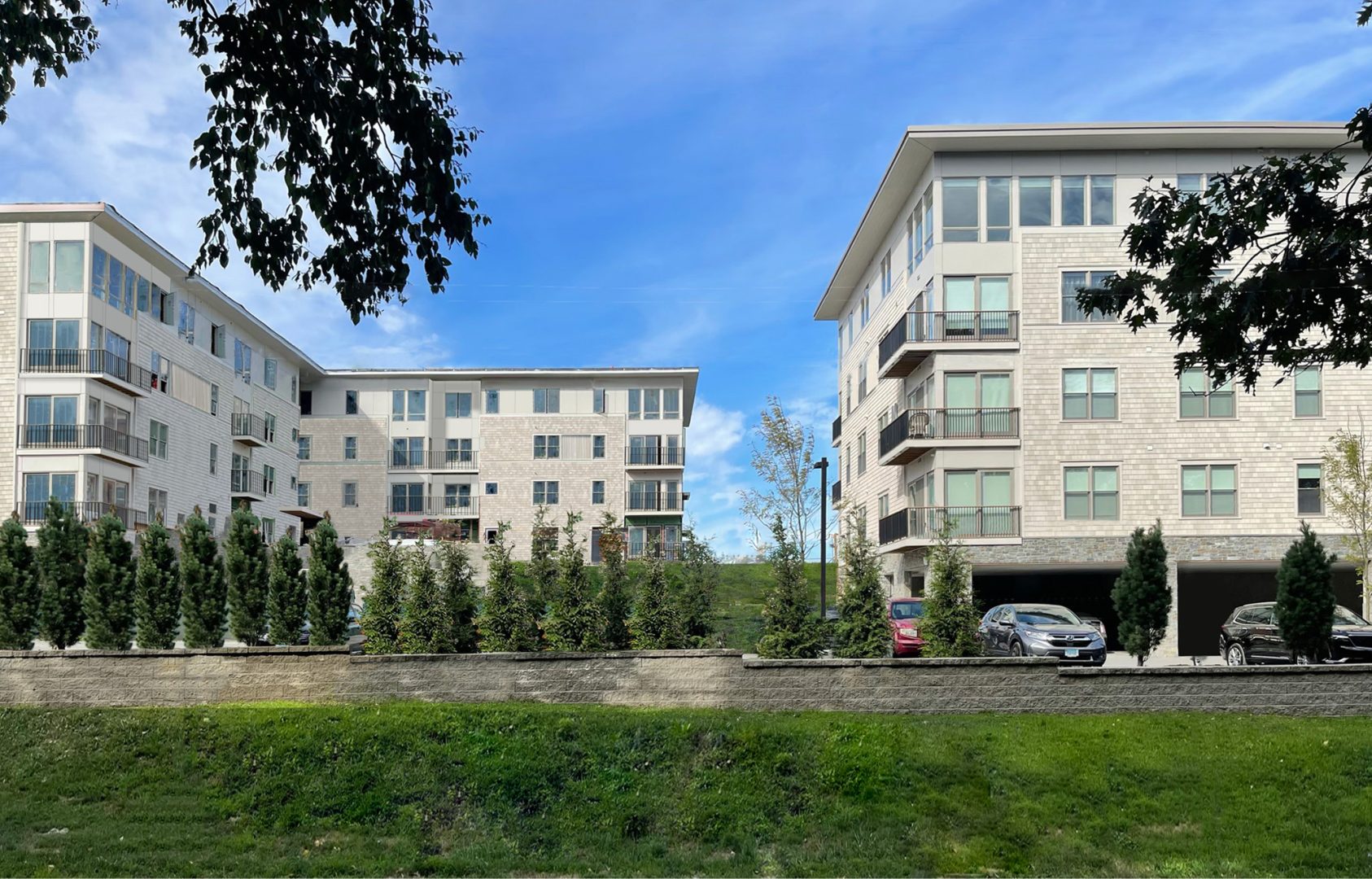 The building's façades are punctured with large windows to take full advantage of views and natural light. Tucked under parking preserves more green space.
Lots of variables came together to enable the project's success, says Scott Hobbs, chair of the Housing Authority of New Canaan. Canaan Parish was developed on property provided by the town on a long-term lease, a fortuitous decision. "The difficult part of providing affordable housing is to find affordable land for below-market rents," said Hobbs.
The existing housing stock was functionally obsolete, with both interiors and exteriors needing substantial upgrading. The two-story townhomes also were not appropriate for a demographic that included senior residents on fixed incomes.
With the town committed to achieving the "8-30g" moratorium, the Housing Authority worked collaboratively with many stakeholders to ensure the project's success. It partnered with Canaan Parish's founding and managing group, New Canaan Neighborhood, Inc., to create a decision-making board. The board used a local developer and architect to advise on issues. The board then reached out to the community on important issues like amenities. Amenta Emma proved that the large windows would provide more light than residents currently had in their townhouses, in spite of losing individual ground-level access. Elevators enhanced accessibility. In the end, the team was able to make the financial proforma work for a superior product. "We were judicious and got a lot of bang for the buck," said Hobbs.
A massive financial challenge for any development project is how to accommodate residents during construction, particularly with New Canaan's small rental stock. Amenta Emma's site plan provided an opportunity to keep most residents in place while the new Phase 1 building was constructed. This minimized disruption for current tenants, who were all good sports about living next to a construction site, while also saving the project significant money.
An early controversial decision was to make the new buildings four stories with tucked under parking to preserve more green space, yet this design exceeded original height restrictions. Alcoves, texture, balconies, color and fenestration details break up the larger masses. Another brief controversy involved the choice of a more contemporary design as opposed to Connecticut's traditional Colonial vernacular. But Hobbs notes, "New Canaan has a long history of modern architecture," so it was still contextual. Amenta Emma and the development board worked with Planning and Zoning officials on adjusting details, such as roof overhangs, to gain overwhelming approval.
An innovative decision to place mechanical system access in hallway closets rather than in individual apartments is a game-changer for this and future projects, Hobbs and McCarthy agree. It cost a little more upfront but will save money on maintenance and result in less tenant aggravation from maintenance visits.
Units have large windows with commanding views, 9-foot ceilings, kitchen islands with Quartz countertops, laundry hookups and private balconies.
We made great use of the whole site through a very thoughtful design process. Each decision, from siting buildings to creating greenspace to interior and exterior layouts resulted in modern apartments that improve living experiences for generations to come.

David McCarthy, president of Heritage Housing, Inc.
With the first building fully leased and the second building filling fast, Canaan Parish serves as a prime example that good design makes good projects. Tenants are proving it with their choices.