The age-old debate of whether to reuse or build new is laid to rest with the transformation of downtown Hartford's State Office Building at 165 Capitol Avenue.
Not only is the building now a beautiful contemporary workplace with a stunning double-height lobby featuring canted marble walls, the design respects the historic fabric of the 1930's-era building while making it a model of 21st century sustainability goals.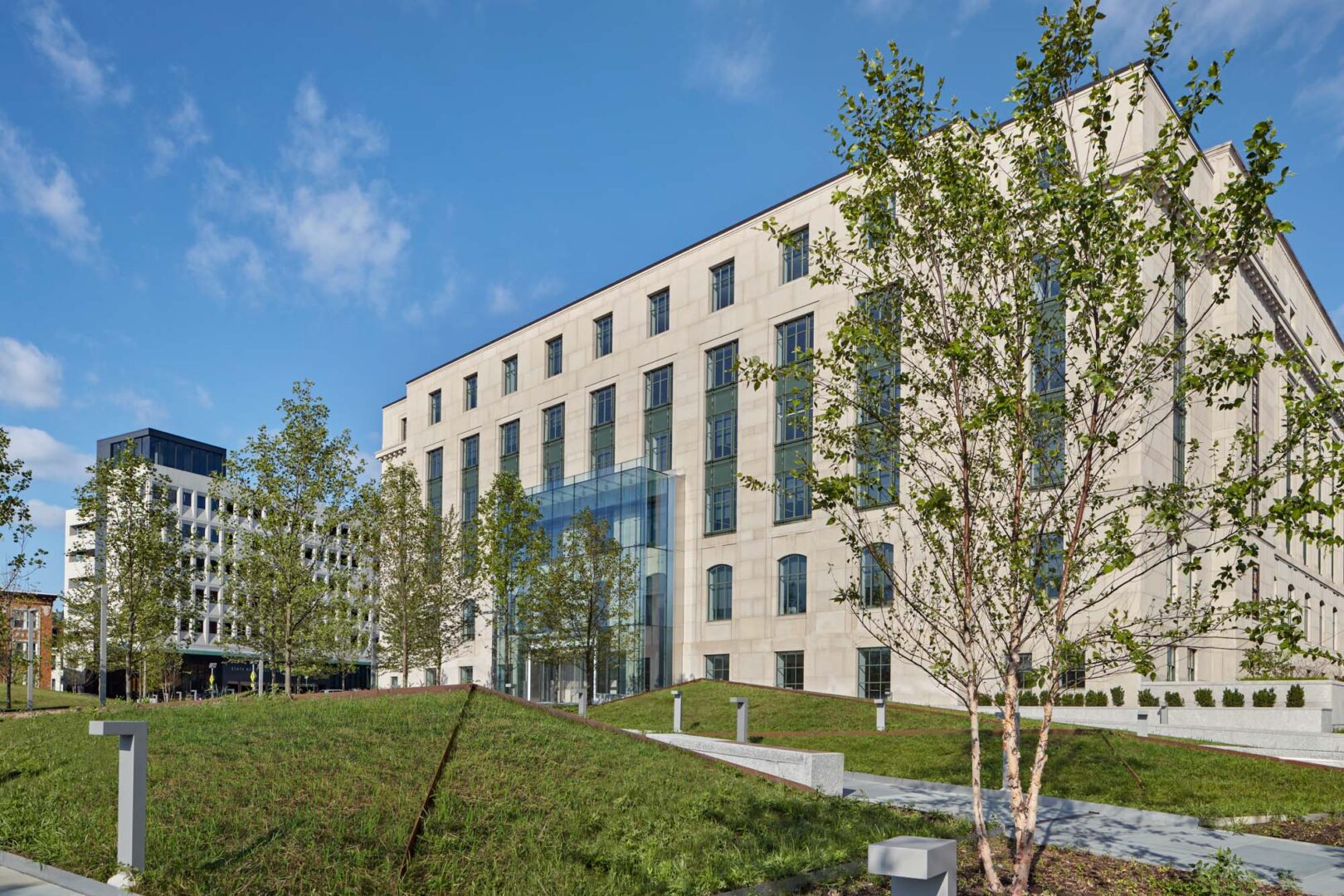 Amenta Emma is committed to reducing our carbon footprint and to integrating sustainability into our design processes, firm culture, and philosophies. These considerations play into each and every project we do. Maximizing a building's energy efficiency does not require expensive technology; simple solutions add up. Examples include replacing drafty single-pane windows with double-pane replicas, replacing 370 window air-conditioners with an efficient HVAC system, and appropriately adding insulation to improve the building envelope. These are not big-ticket items, which is great news, considering that half of all buildings in the United States were constructed before 1980, and the median age for buildings in the Northeast is 46 years.*
(* U.S. Energy Information Administration's Commercial Building Consumption Survey 2012.)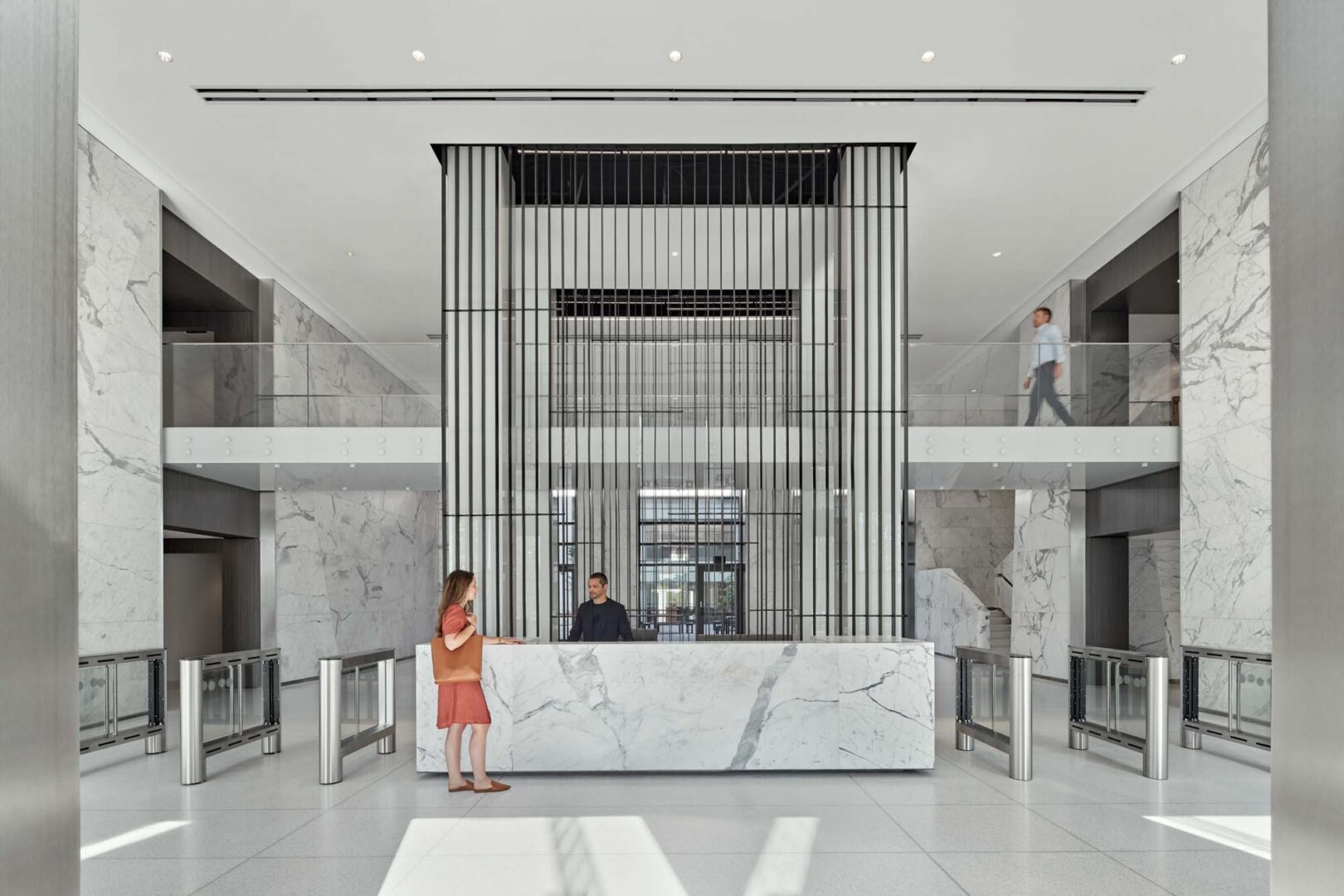 Here are some project highlights of other sustainable strategies:
Energy Use Intensity (EUI) is a great way to understand how much energy a building consumes compared to all buildings' energy-use and embodied carbon. At the State Office Building, we were able to achieve a 55% reduction in EUI from baseline average. Even more, Amenta Emma's energy model predicts an annual cost savings of $209,975 for the client.
Maintaining 95 percent of the existing building structure allowed us to save approximately 3,720 metric tons of embodied CO2. Why does this matter? It is the equivalent to the carbon dioxide released per year by 808 typical passenger cars! (A typical passenger vehicle emits about 4.6 metric tons of carbon dioxide per year).
We did not remove existing exterior walls; we added value by installing a new Air/Vapor Barrier and insulated rainscreen system to the existing structure in the courtyards, as well as added insulation to the perimeter limestone and roof structure, enhancing the building envelope all around.
We implemented a storm-water management plan that treats 90 percent of annual rainfall.
We replaced a large, fenced, impervious asphalt parking lot with an adjacent vertical parking garage and used that lot to create a new urban park in front of the building – an oasis of green and a new community asset. In total, we added more than 16,250 square feet of vegetation to the site's footprint.
Reusing the existing site gives users public transit access; bike storage within the building encourages alternative transportation.
The open floorplan, with a new curtainwall, maximizes daylighting. The building also is equipped with daylighting sensors for all light fixtures.
Adaptive-reuse transformations require an experienced design team to develop selective modifications on existing buildings that will maximize a building's efficiency while avoiding big ticket items. Amenta Emma looks forward to helping clients reimagine the second life for those expired structures by incorporating sustainable strategies into the design. The State Office Building serves as an excellent model.