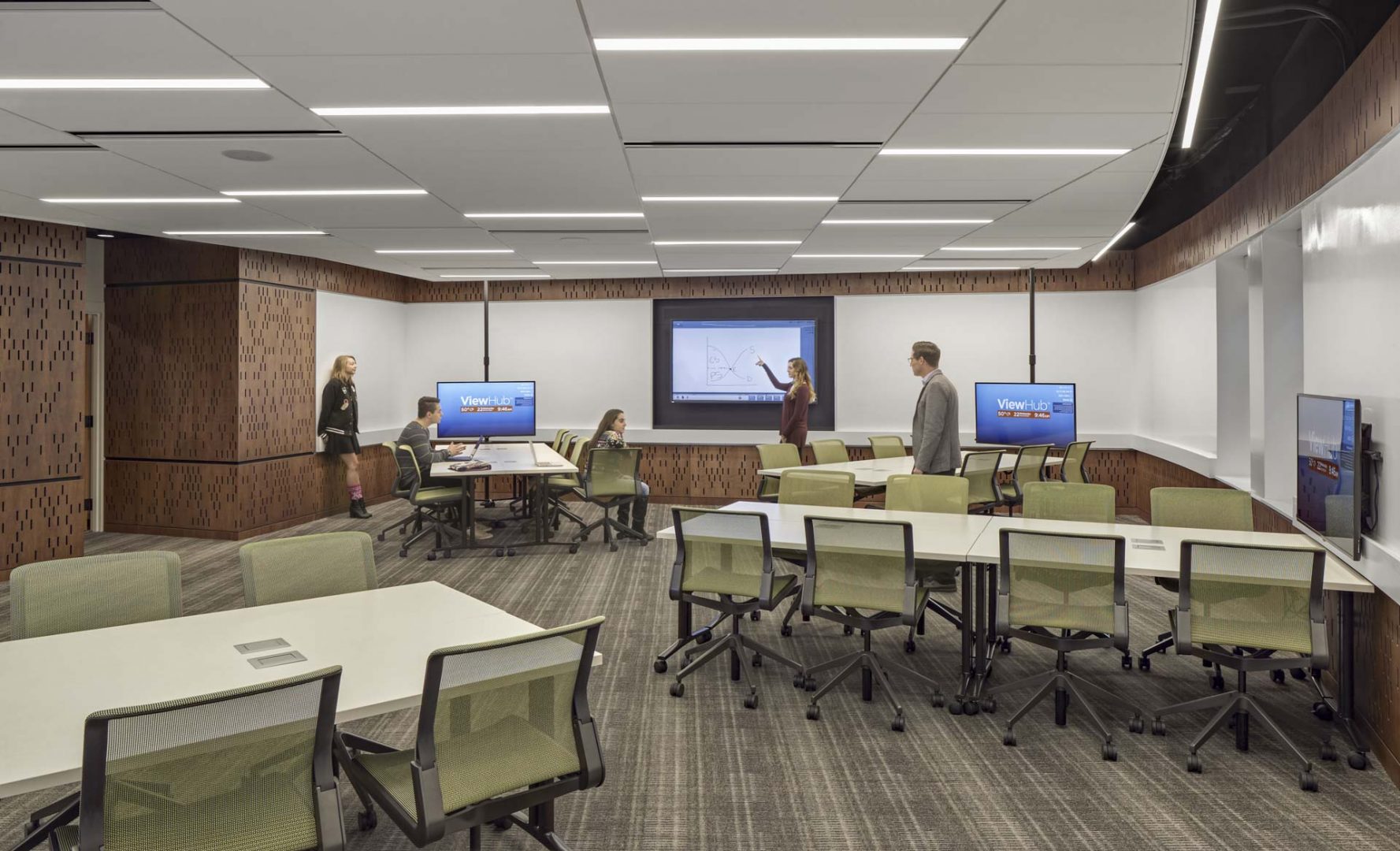 School of Business at Quinnipiac University – Hamden, Connecticut
Most people look upon tight budgets as a limitation. We just turned a similar circumstance into a design challenge and opportunity to achieve an exciting result.
In the process of converting conventional classrooms to more collaborative space in Quinnipiac University's Business School, part of the design discussion was how to refresh wall surfaces. In addition to writing surfaces, or white boards, the wall finishes needed to provide acoustical clarity. Our design concept proposed using perforated wood panels at the walls, providing a warmth to the interior environment and addressing the technical considerations for acoustics. While there are a multitude of manufactured options for such panels, the products are expensive, and patterns are limited to what can be ordered from a catalogue.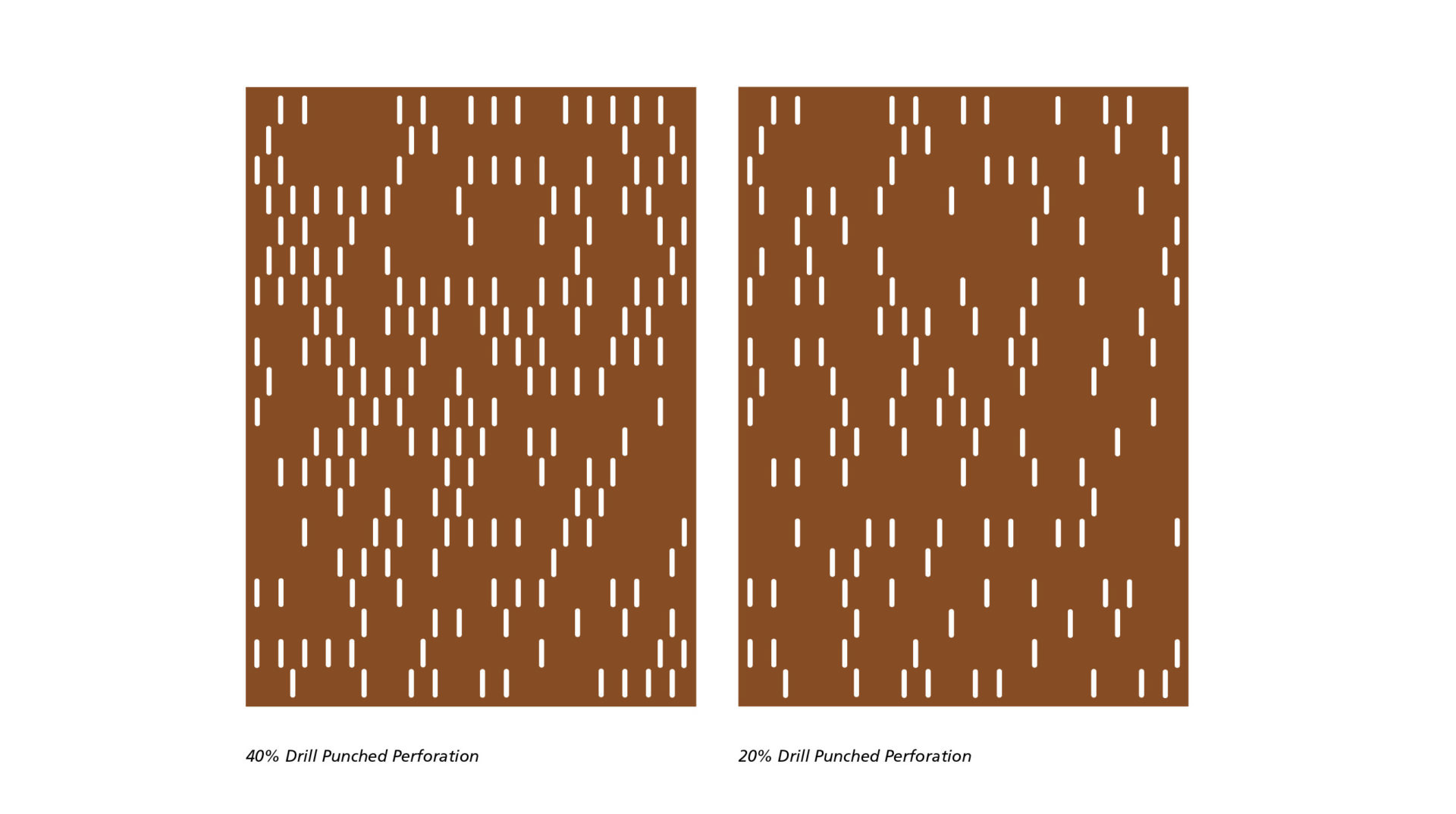 We began researching alternatives to manufactured wood panels, and in particular, options for digitally fabricated panels where the perforation patterns could be of our own creation. Our goal was to create custom patterned wall panels that were less expensive than similar panels marketed and sold for use in architectural applications. We began collaborating directly with a millwork company—Breakfast Woodworks in nearby Guilford, CT—with CNC milling capabilities. In doing so we came to understand the cost of the panels is directly correlated to how much time is involved in the milling process to create the perforation. Less time, means less cost. Our challenge was to design a pattern based on a very simple drill punch.
To accomplish this, using the drill punch as the 'module,' we modeled the panels and utilized the parametric capabilities of the software to manipulate the pattern to achieve a balance between aesthetics and cost. The panels were modeled with the drill punch consistent across the entire surface of the panel, and then to reduce the number of punches and create visual interest, the drill punches were randomly eliminated by percentage. We settled on a pattern design that removed 60% of the drill punches in random assortment. The end result is really exciting—a custom perforated wall panel that cost 40% less than what the client could have bought from stock.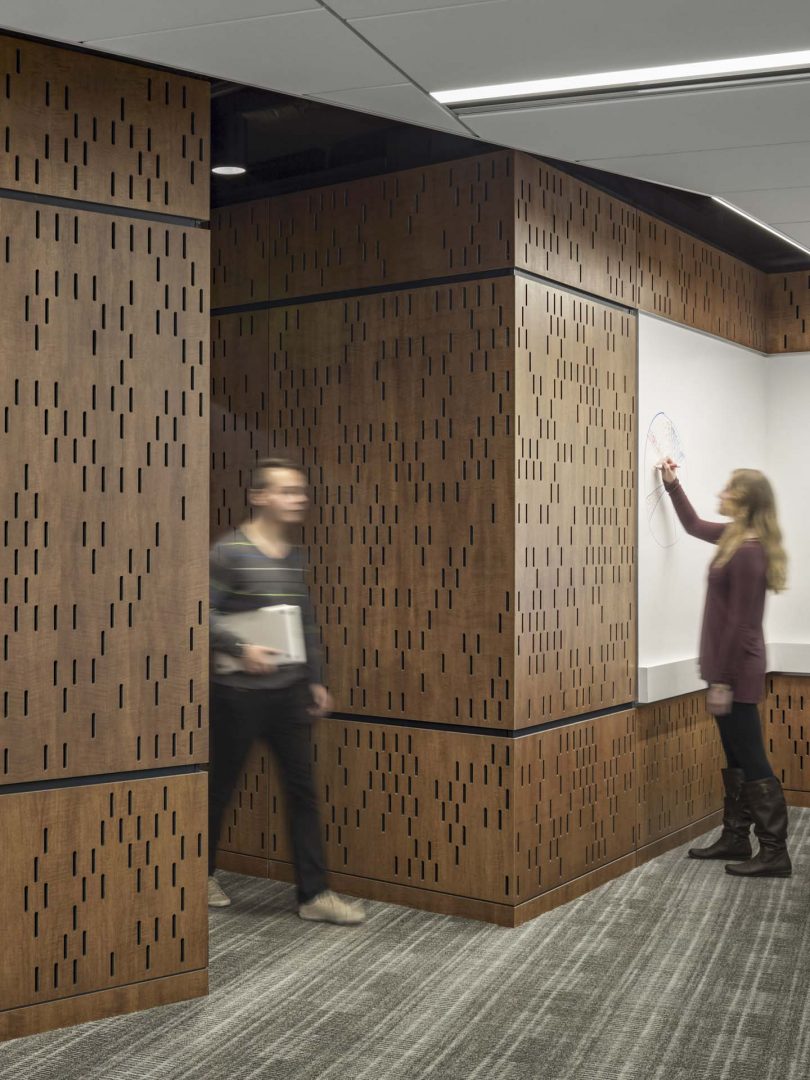 It was so rewarding to leverage sophisticated modeling technology, creativity, and economics to inform design in an innovative way—adding value to the design and the client. At Amenta Emma, we never say never!