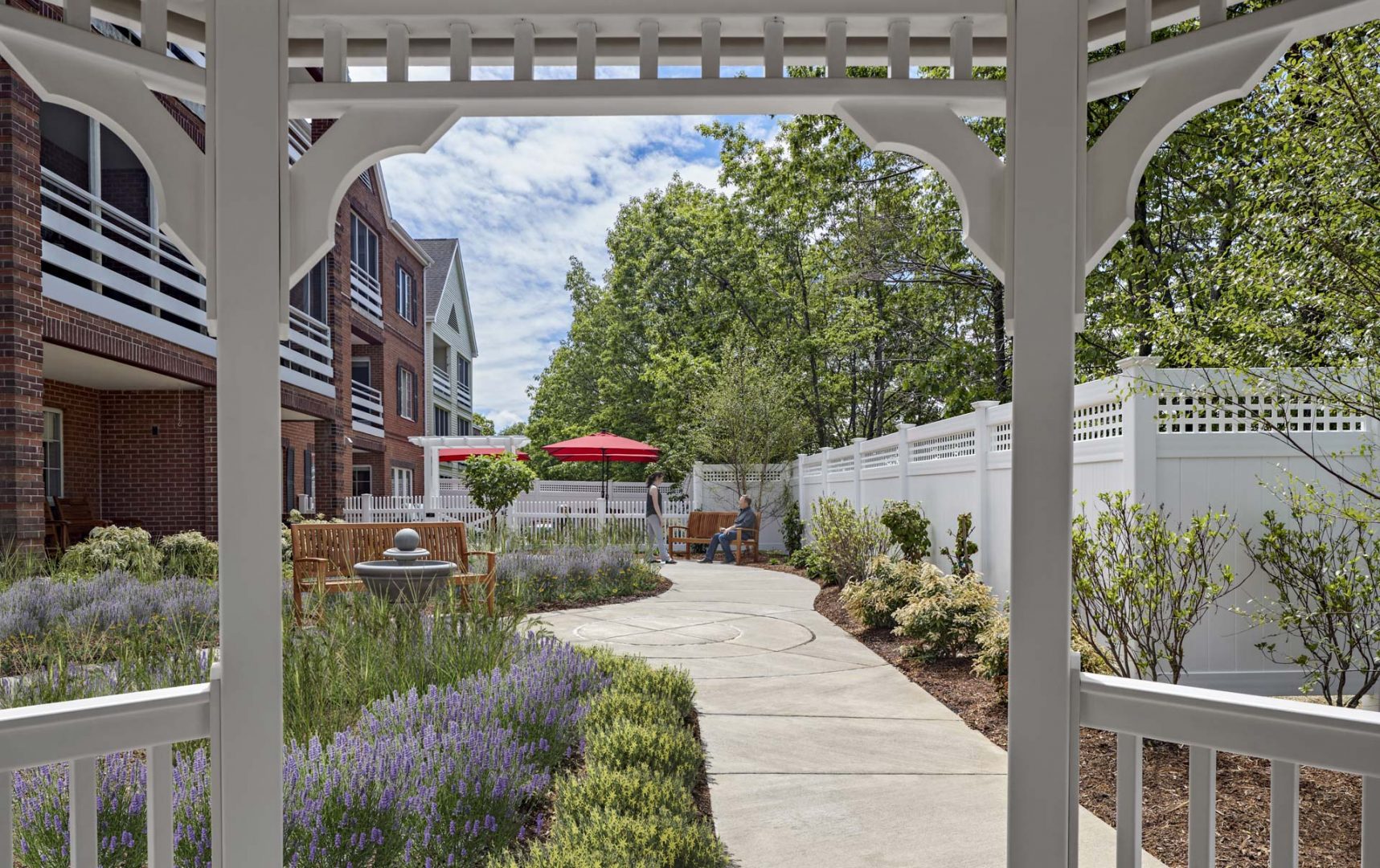 The Memory Garden at the Burnham Family Memory Care Residence at Avery Heights – Hartford, Connecticut
We all know how it wonderful it feels to be outdoors. It is relaxing, restorative, and rejuvenating. The connection we feel to nature is biological, yet most Americans spend close to 90 percent of their time indoors. Senior citizens spend even more time inside due to health or mobility challenges. 
Thankfully, it doesn't take a wilderness expedition for seniors to experience the physical and psychological benefits of natural surroundings. With biophilic design – design that connects us to nature – in senior living spaces, everyone reaps rewards.
Daylight is a vital component of biophilic design. Exposure to daylight reinforces the body's circadian rhythm (natural sleep cycle), allowing individuals to sustain greater energy levels throughout the day to promote a better night's sleep. This is especially helpful for seniors wishing to stay active, but for seniors with memory care issues, exposure to daylight is critical. A more active day can mean fewer issues with sundowning in the late afternoon and a more restful sleep at night.
Views of and access to the outdoors are obvious connections to nature that have numerous benefits: lowered blood pressure and heart rate, improved engagement, and a greater sense of well-being. Interior spaces purposefully designed to capture dynamic views connect seniors to the patterns of nature. Walking trails, community gardens, and areas for outdoor physical activity encourage seniors to enjoy the outdoors in a variety of ways. Memory Gardens allow those with memory issues a safe, secure environment to fill their senses with the sights, sounds, and smells of nature.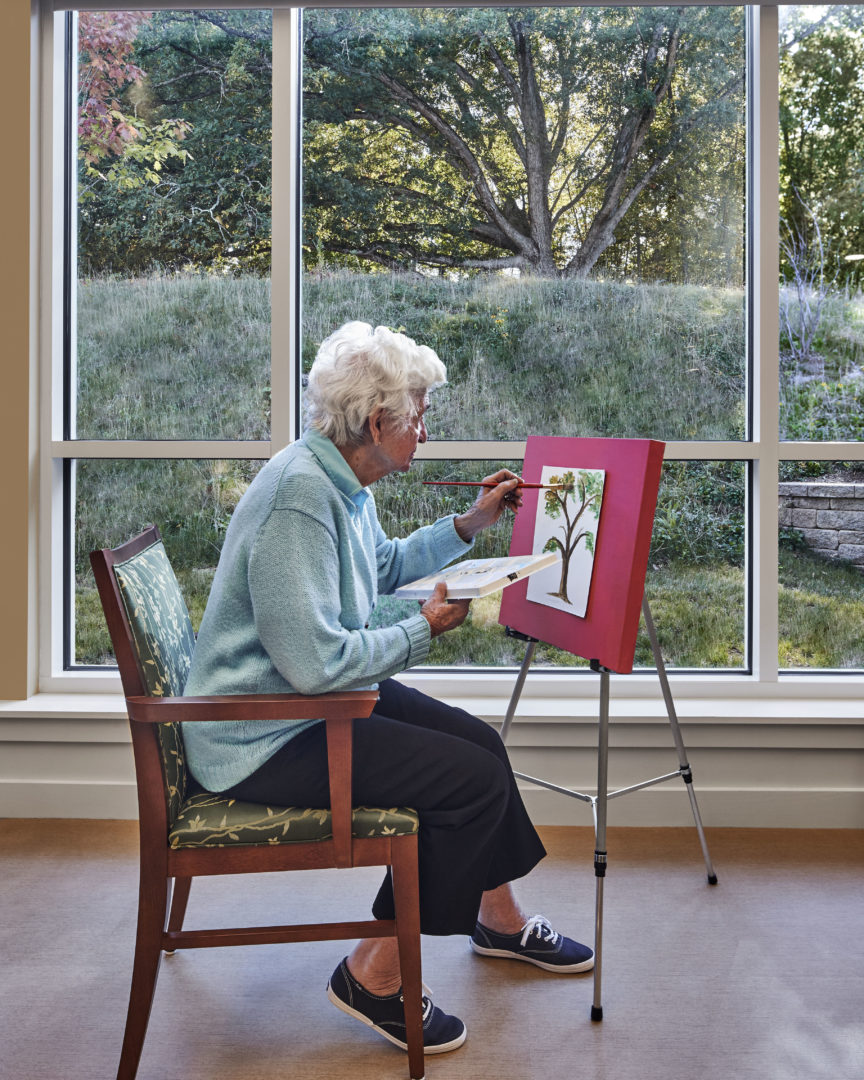 A resident paints the "Charter Oak" at Duncaster Retirement Community
Amenta Emma implements biophilic design in all its senior living projects. At Duncaster Retirement Community in Bloomfield, for example, a majestic 100-year-old oak, known by residents as the Charter Oak, is the organizing element for the new building's form and placement, symbolizing strength, endurance, protection, success and stability. We centered the building on the oak tree, stepping the footprint to bring southern light and glimpses of the tree to each resident room. The end of the building is open to a glassed activity room, or conservatory, where the tree can be viewed on all its magnificence. The tree also became the inspiration for the interior design's "Connection to Nature" theme. 
At Avery Heights Senior Living community, we employed many elements of biophilic design. This included heightened exposure to daylight, a strategically positioned common space, with large windows to provide views to the garden and beyond, and outdoor access, including a secure Memory Garden. Inside, a palette of earth tones, warm neutrals, and shades of blue and green create a soothing environment. Tactile textures like grasscloth wallcovering, soft upholstery layered with visual textures such as stone veining, and a 'dappled light' effect on carpet, have a strong effect on cognitive performance and enjoyment of the space. A custom illustrated graphic of pussywillow branches is a soothing, organic reminder of nature.
Frank Lloyd Wright famously said: "Study nature, love nature, stay close to nature. It will never fail you." We believe that is true.