Suburban office parks – once the buzzing hive of commercial workplaces in post-war America – sit vacant as tenants progressively flock to newer, urban offerings with amenities and alternate leasing models. As consumer buying habits shift, abandoned retail spaces in shopping malls and strip centers dot our communities. Warehouses that formerly housed vivacious manufacturing facilities, become stigmatized sites within our cities. These are the ubiquitous parts of our built world – the forgotten, mundane structures whose expiration dates appear to have passed. These buildings and spaces need not be forgotten. Creative thinking and careful examination can produce effective adaptive reuse projects that make the most of existing structures and breathe new vitality into our communities.
The decision of whether to build new or recycle old is not an easy one. A 2012 study by Preservation Green Lab (part of the National trust for Historic Preservation) compares the environmental impact of retrofitting an existing building for high performance vs. tearing down the building and replacing it with a high-performance one. Demolishing old structures creates pollutants and tons of landfill waste. The EPA classifies new construction as one to the top emitting sectors for greenhouse gasses, to say nothing of the energy required in the manufacture and transportation of building materials. Adaptive reuse of older buildings can take advantage of the reuse of materials and fixtures; many often had thicker walls to control temperatures, and higher ceilings and large windows to allow natural light. On the other hand, older structures often are beset with hazardous materials, like asbestos, and out-of-date accessibility and life-safety features.

Symmetry Partners – Glastonbury, Connecticut (Exterior – Before)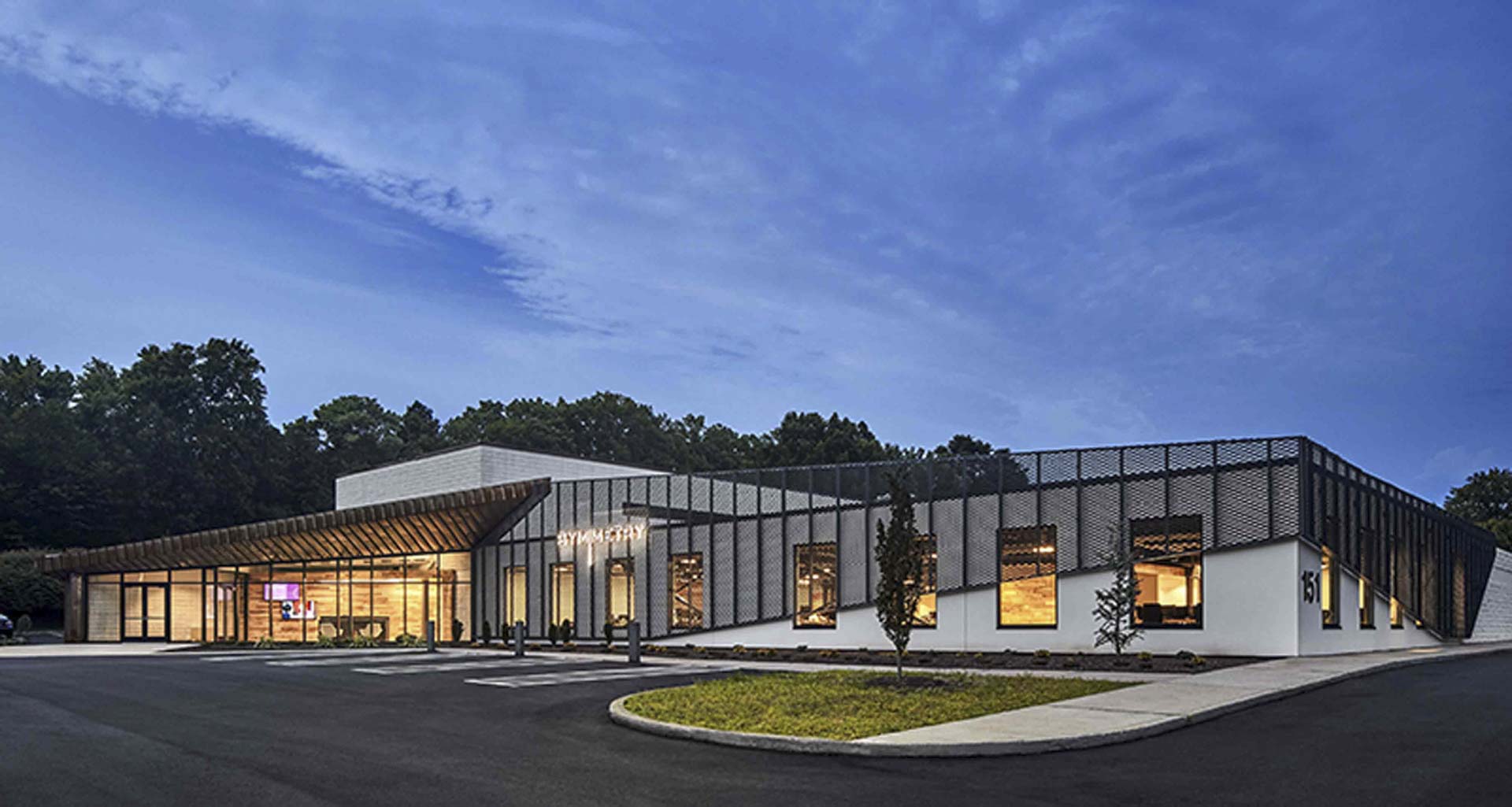 Symmetry Partners (Exterior – After)
Beyond these considerations, adaptive reuse of existing buildings presents unique cultural, economic and place-making propositions. As a result, clients looking for expanded space and up-to-date work environments have much to consider. As architects, we have an obligation to lead responsible discussions for outcomes that best serve our clients and communities. Understanding and harnessing the latent quality of an existing structure, space or building is central to any successful adaptive reuse project.
Two recent projects are excellent examples that make the most of existing buildings and mend holes in our urban fabric.
Symmetry Partners, a fast-growing turn key asset management and business solutions firm, based in Glastonbury, CT, saw potential in a dark, empty former data center and challenged designers to transform the building into a brightly lit, collaborative space to accommodate its ever-expanding workforce.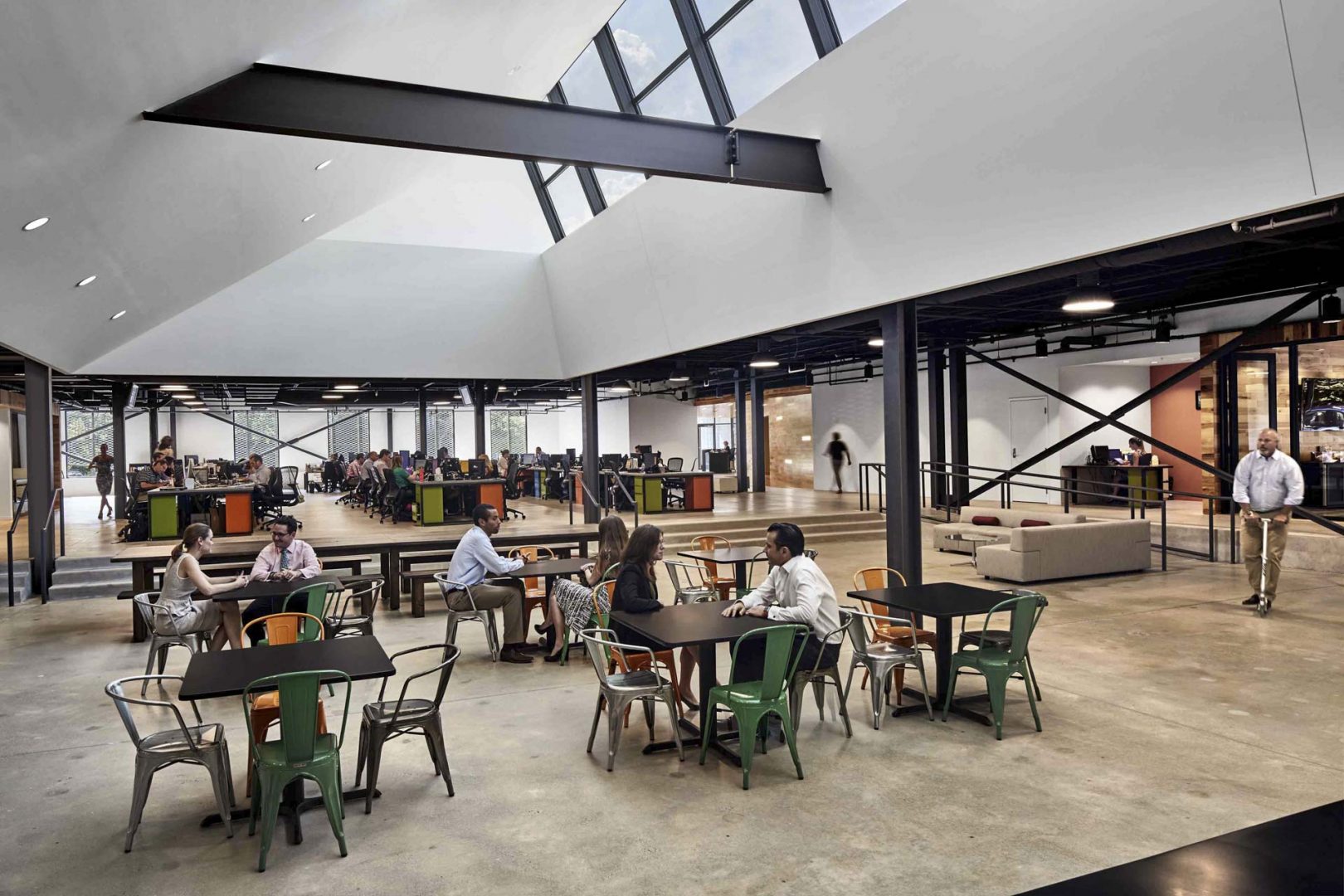 Symmetry Partners (After Renovation)
In this contemporary adaptive reuse, designers brought daylight deep into the interior of the 40,000 square-foot building with new perimeter glazing and a large, central skylight. To mitigate the added heat gain and glare from the expansive new glazing, a sun-screen was integrated with the exterior walls to provide shade. This perforated façade screen not only provides thermal comfort, but defines the building's exterior with its playful pattern and sweeping forms. The skylight crowns a "plaza" community space, where employees gather to eat or relax. It also brightens the collaborative work area.
At Housatonic Community College in Bridgeport, an exciting renovation and addition to Lafayette Hall repurposes a bland, tired shopping mall with no clear front door into a strong, bold transparent addition. Admissions, financial aid and the business office now are conveniently located along a ground floor "Main Street." Art teaching spaces are on upper floors of the addition; science labs are located in a renovated existing portion of the building. An interior lounge space and a new courtyard at the rear entrance invite students and faculty to meet and mingle. Generous glazing allows passersby to see activity within. A dramatic two-story atrium, joins the first floor with upper level classroom activities, and a second-story bridge provides covered passage to adjacent parking.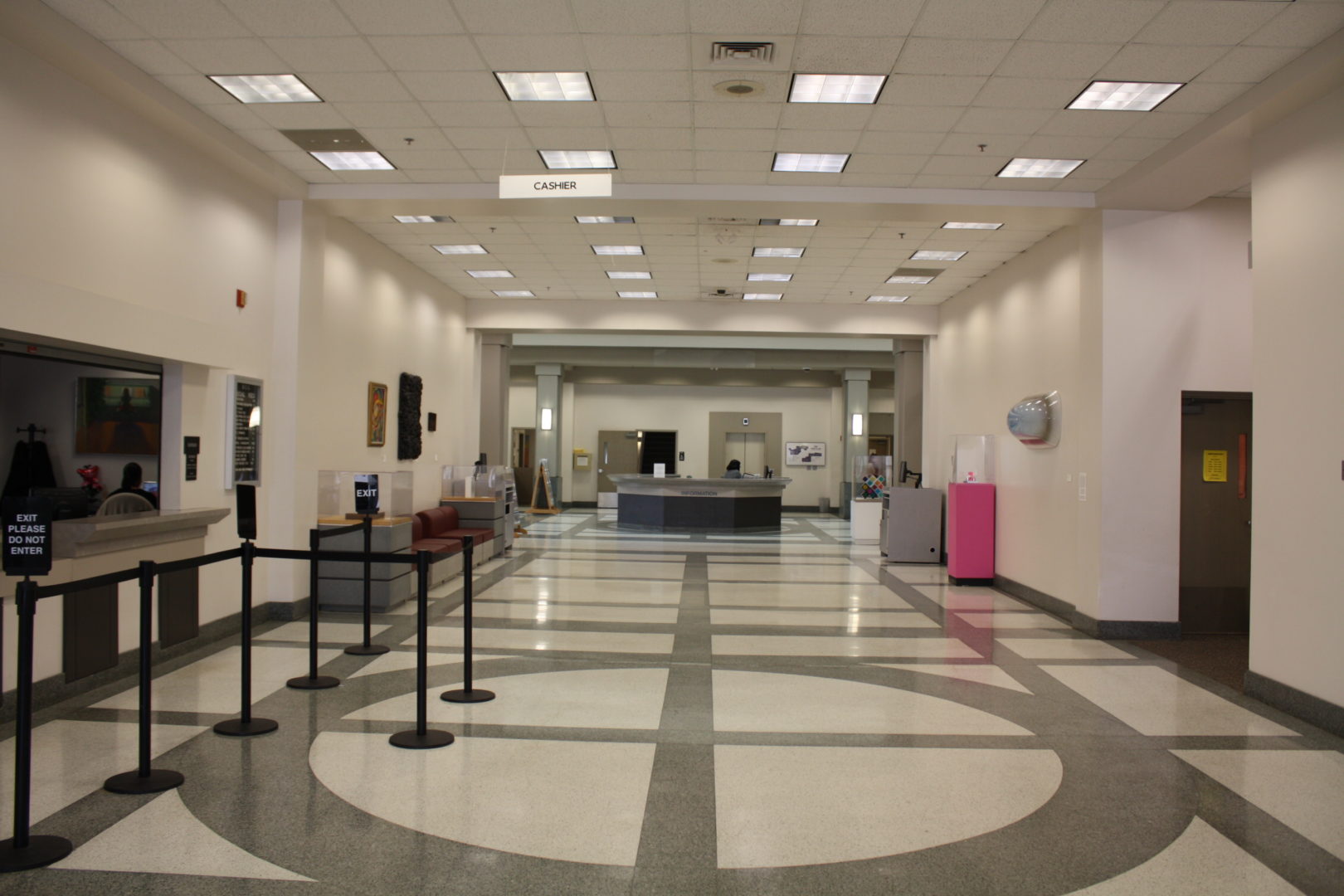 Lafayette Hall at Housatonic Community College (Interior Before Construction)
The questions and process involved in developing meaningful adaptations of existing buildings and spaces need to be wisely considered and managed with an experienced and creative design team. We think adaptive reuse of appropriate structures is a win-win for clients, communities and our environment. Amenta Emma looks forward to helping our clients reimagine the second act of those expired, vacant and dormant structures.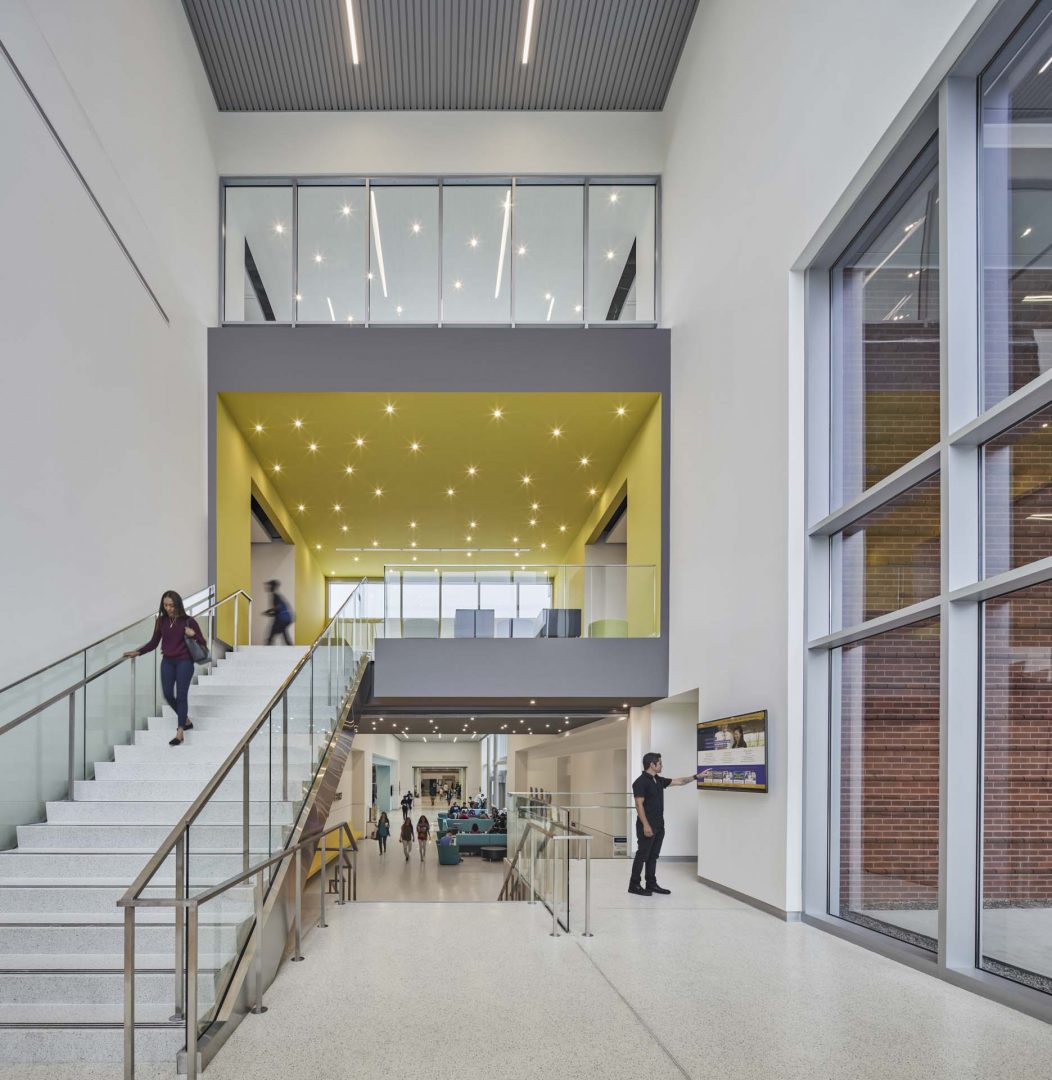 Lafayette Hall at Housatonic Community College (After Renovation/Addition)