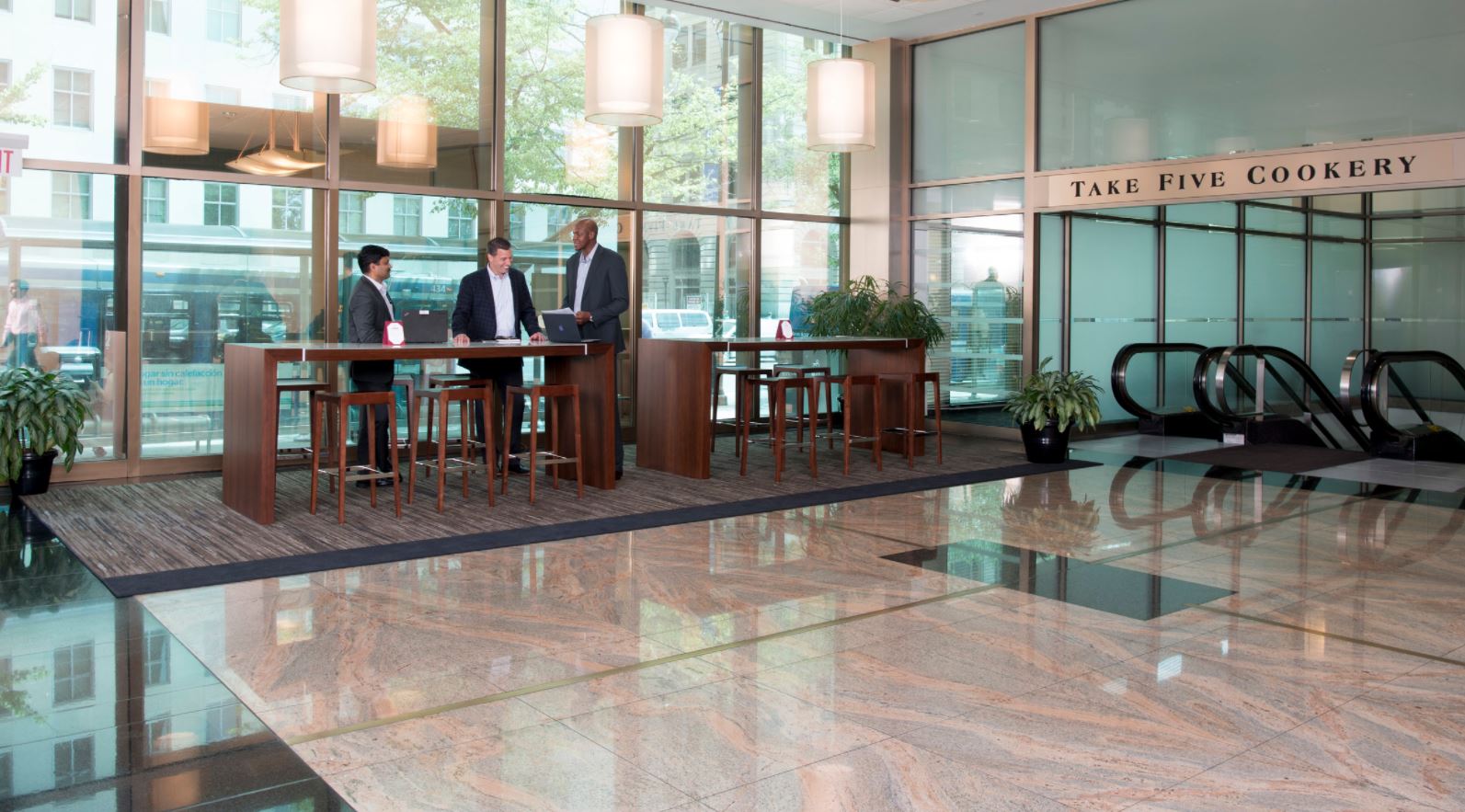 Recently updated "Gold Building" Lobby – Hartford, Connecticut
Office lobbies used to be places you passed through on your way to an elevator in dripping soggy boots. Not anymore. Yoga class anyone? Movie night? Happy hour? In an effort to attract specific growth industries to their buildings, landlords are following a trend started largely by tech and creative companies, whose employees often spend many hours at the office. For these companies and their workers, amenities are essential. It is not enough to provide collaborative work space. These workers want an environment that evokes community.
As a result, small- and medium-sized companies who cannot afford to provide amenities in their own leased spaces are seeking landlords who realize their importance and are willing to provide them. Members of the Connecticut chapter of the Real Estate Finance Association recently heard what the industry is doing to attract tenants. Landlords understand they must add vibrancy to their properties to remain competitive.
While kayak docking stations and pet daycare may seem a bit over the top, benefits such as full gyms with locker rooms, lounge space, community pubs, bike repair shops, and wifi-equipped usable outdoor space, such as patios and roof decks, are already starting to appear. Even more, landlords are programming the public spaces, such as lobbies, with activities like yoga, movies, art installations and happy hours.
Authors Richard B. Peiser, Ph.D., and Raymond G. Torto, Ph.D., discuss the trend in an article entitled "Activating Office Building Common Spaces for Competitive Advantage," based on a survey completed for the NAIOP|Commercial Real Estate Development Foundation. "More vibrant lobbies and common areas contribute to community by creating a populated atmosphere that makes the office distinctive and a place where people enjoy spending time.," they write. They note that lobbies can make a powerful first impression of the property, so aesthetics are important, too.
That is driving another trend: updating and renovating older properties that may have staid and dated lobby spaces. In a larger building with a bigger budget, a total transformation is easier to accomplish. In smaller buildings that can't support a large renovation budget, building owners need to rely on architects and professionals to help them make the best decisions. Sometimes, covering up or removing "timeless" materials like granite or marble, may be necessary to achieve a contemporary result. Other times, deftly handling additive choices can work miracles.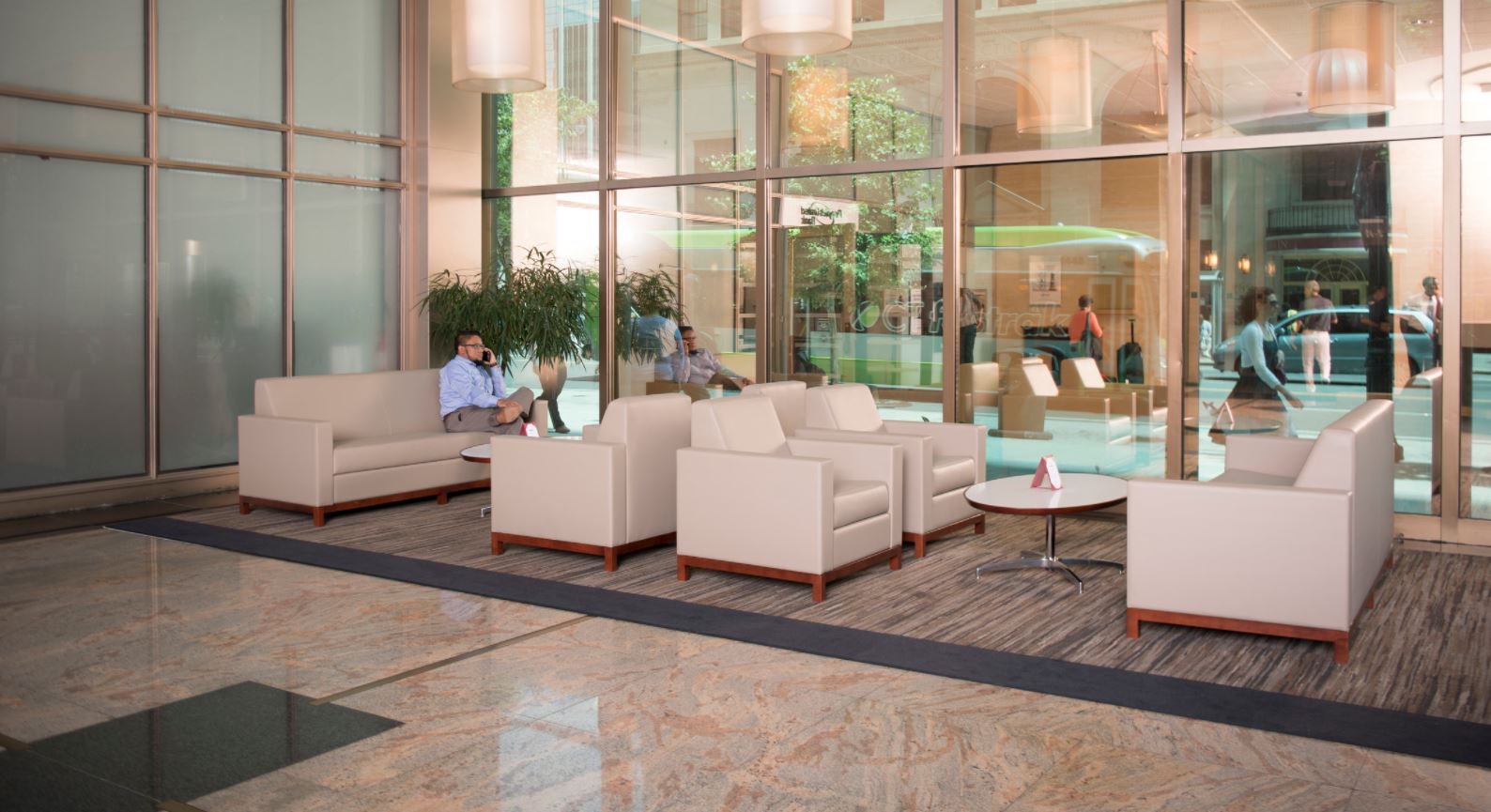 Recently updated "Gold Building" Lobby – Hartford, Connecticut
A recent relevant example is the moderate renovation of Hartford's Gold Building. Originally built in the 70's, this 600,000 s.f. behemoth is sought after given its location and super-efficient floor plates. The sizable first floor common areas had very high quality finishes, but it did not relate to today's modern lobby finishes. The landlord challenged Amenta Emma to keep the finishes but work some magic in providing amenity spaces that, when completed, would be transformative.
The magic "trick" we used involved selecting new furniture and some complimentary finishes that are thoroughly modern, but worked well with the color palette of the existing granite and travertine floors and walls. Rich dark veneers and coffee-colored leathers with chrome accents in new lounge and co-working areas fit well in the "Gold" building's existing warm palette.
On the exterior, an abandoned "smokers' courtyard" was transformed into a millennial playground, featuring giant Jenga, outdoor foosball, and other games. Seating is outdoor casual, with umbrellas and picnic tables. Large potted plants and ornamental grasses liven up the space.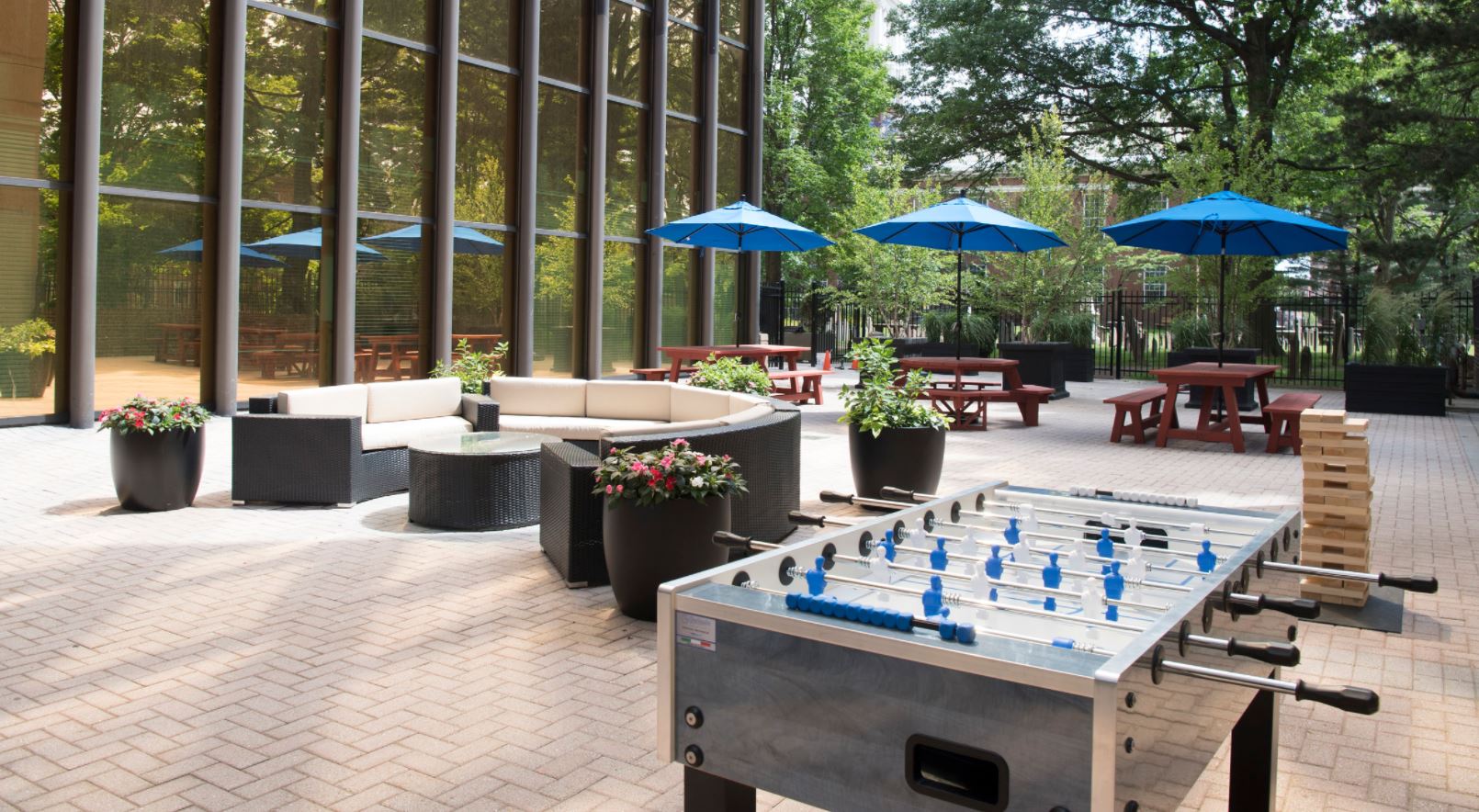 Recently updated exterior courtyard of the "Gold Building" – Hartford, Connecticut
Results are being tallied with one new creative company taking 25,000 s.f., and a 50,000 s.f. renewal of a financial company with a large number of their 280 employees of the millennial generation.
The new reality is about creating an interesting and invigorating building culture that will attract and retain employees. In these bright new common spaces, there is no room for those drippy boots!