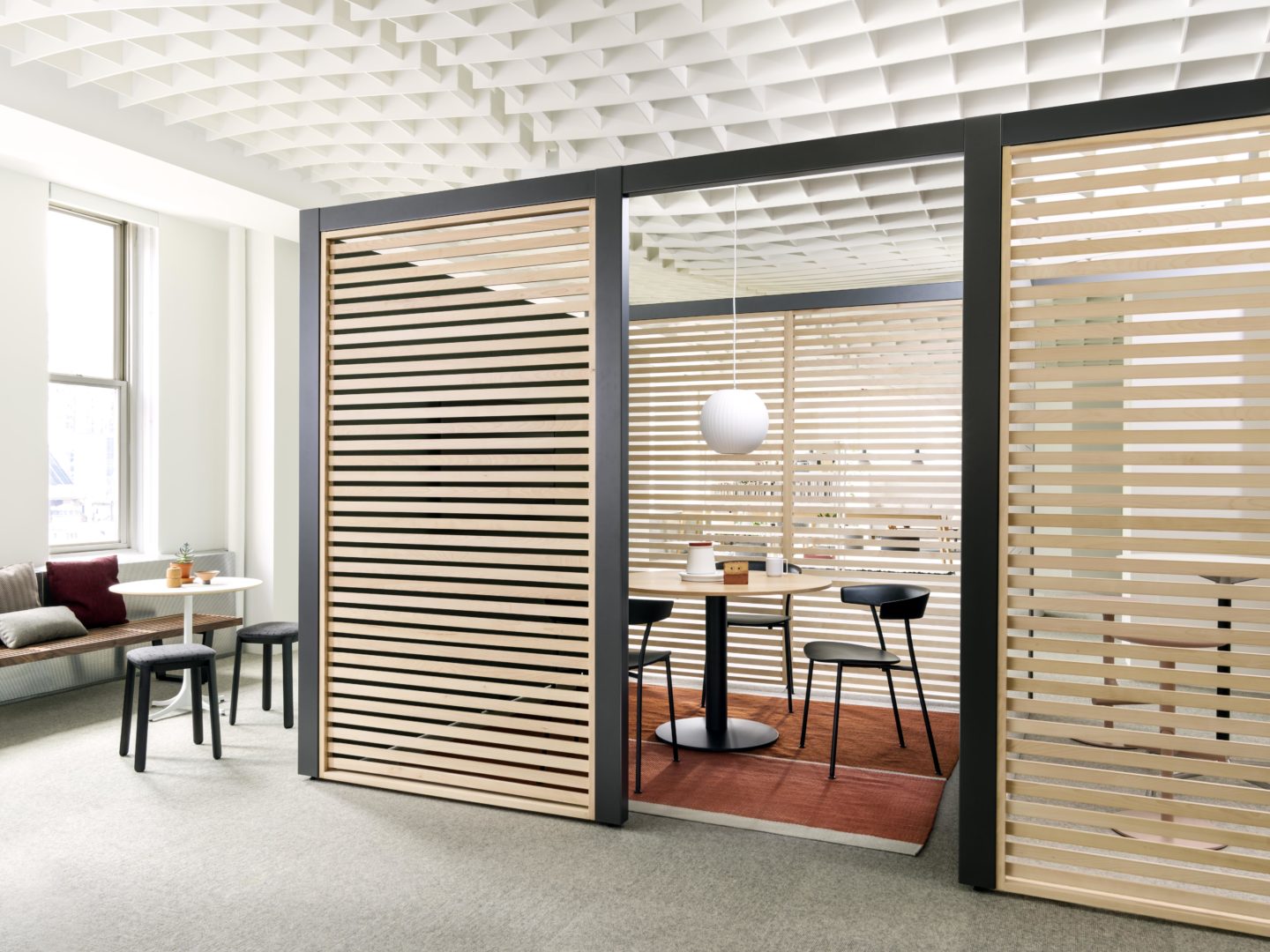 Herman Miller Showroom at NeoCon 2018 – Photo Credit: Fran Parente
NeoCon, the world's largest commercial interior industry event, celebrated its historic 50th year in June. The annual trade show, at the Merchandise Mart in downtown Chicago, drew more than 50,000 industry professionals to experience the best of the design industry. We were there!
NeoCon emphasizes ecological consciousness, technological advances and cultural changes. Attending events like these, with nearly 1 million square feet of exhibition space and products from 500 companies, keeps us current on new ideas, the latest in innovative products, and materials and technologies that affect how we live and work.
Trends we noticed at NeoCon this year?  Emphasis continues on human-centered design. Employees have different comfort levels when it comes to privacy, acoustics, and ergonomics, but also with when, how, and where they work. A well-designed workplace can help relieve employee stress and even help sustain a proper work/life balance. Happy employees are more engaged employees!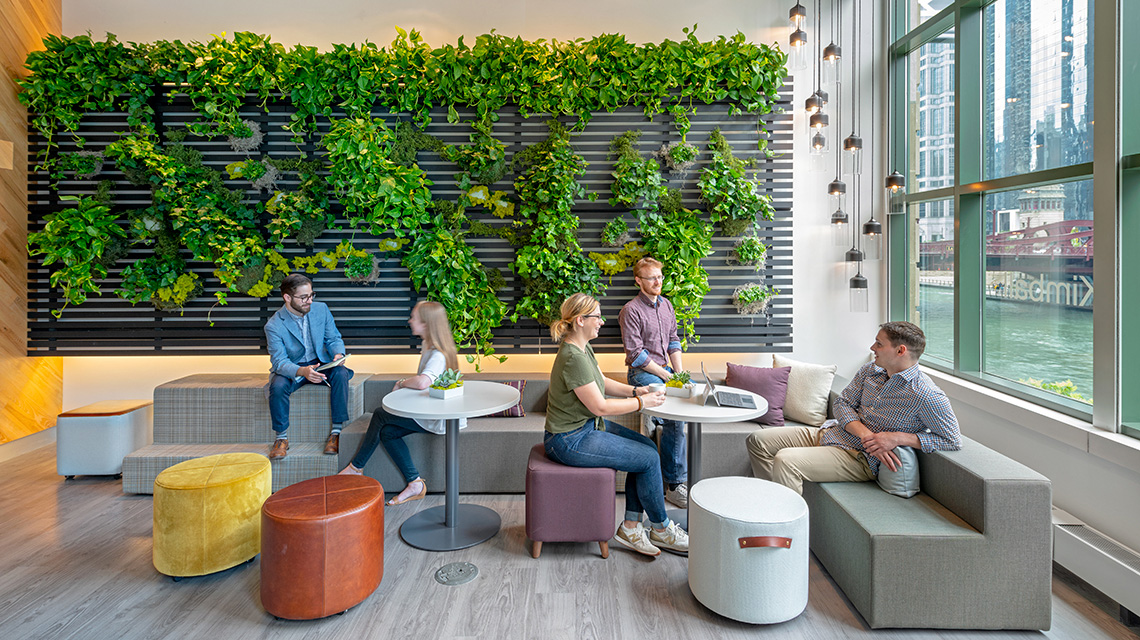 (Kimball Chicago Showroom – Image: Compliments of Kimball)
Take-Aways from NeoCon 2018:
Quiet Down! Office noise, in the form of everything from chatter to mechanical systems, can lead to decreased productivity, reduced concentration, and increased distraction. Strategies like acoustical treatments on walls, ceilings, and even desk lamps can improve acoustics and add to the overall level of comfort.
 
Biophilia. The greener, the better! Let the light in and introduce plants to create a healthier feeling – and looking – office environment. Freestanding plants, small succulents, and large grow walls are great ways to incorporate green. [See Nature Never Fails – a recent blog post on biophilic design.]
 
Agile Workplace = Empowered Employees. Giving employees the option to work where it suits their mood on a given day supports greater productivity and increases happiness. Fully supported technology throughout the office allows employees to remain connected wherever they work, whether a different workstation than usual, a coffee break in the lounge, or an afternoon working from the courtyard. Connect and get working!
 
Adaptable Furniture = Increased Comfort. Allowing employees to adjust everything from desk heights to partition locations gives them the power to create their perfect level of privacy and comfort. This means employees can focus longer, leading to higher levels of sustained productivity.
 
Move It. Portable furniture that is easy to reconfigure lets employees make a space their own. Reconfigurable furniture also allows flexibility for different activity types and meeting sizes. Go from an open lounge to a group meeting space in no time with mobile white boards and tv.
 
Get Up. With less need for paper filing, thus less waste, create centralized storage and trash areas. Employees will get up from their desks when they need to file or toss, encouraging movement and wellness. This arrangement also allows for more efficient workstation footprints and encourages employee interaction.
(Kimball Chicago Showroom – Image: Compliments of Kimball)
Overall, NeoCon 2018 showrooms saw an emphasis placed on balance in the workplace.  By creating engaging focused-work spaces (private office, board room, workstations) and cozy comfort areas (lounge, café, open meeting), employees have choices of where to work. Some of NeoCon's most effective and appealing focused-work areas used textures from nature and biophilic accents and colors with appropriate light reflectance values. These inviting comfort areas create rich environments for socialization, relaxation, and work.
Employee engagement and productivity increase when they can work easily and comfortably in a space that best fits their needs and moods. You can be certain Amenta Emma will be taking these insights to heart as we work to create dynamic, successful work environments for our clients.