Team members walking to the State Office Building at 165 Capitol Avenue design tour.
Numerous clients who approach us to invigorate their office spaces are familiar with many of the popular movements that exist in office design today. Trends such as open office concepts, flexible spaces, and wellness initiatives all sound great on paper, but many are still skeptical. "Will it function for us?"
Of course, we have countless success stories to share, but it means a lot when we also can show that we practice what we preach. It helps to reinforce our points.
Our office in downtown Hartford has an open plan, which is key to our productivity as we work in teams to facilitate collaboration. Still, we recognize that an open office can be distracting to some. Solutions we employ in our office and for clients include acoustically isolated huddle and phone rooms, and even some high-tech solutions such as 'white noise' to lessen distractive noise throughout the office.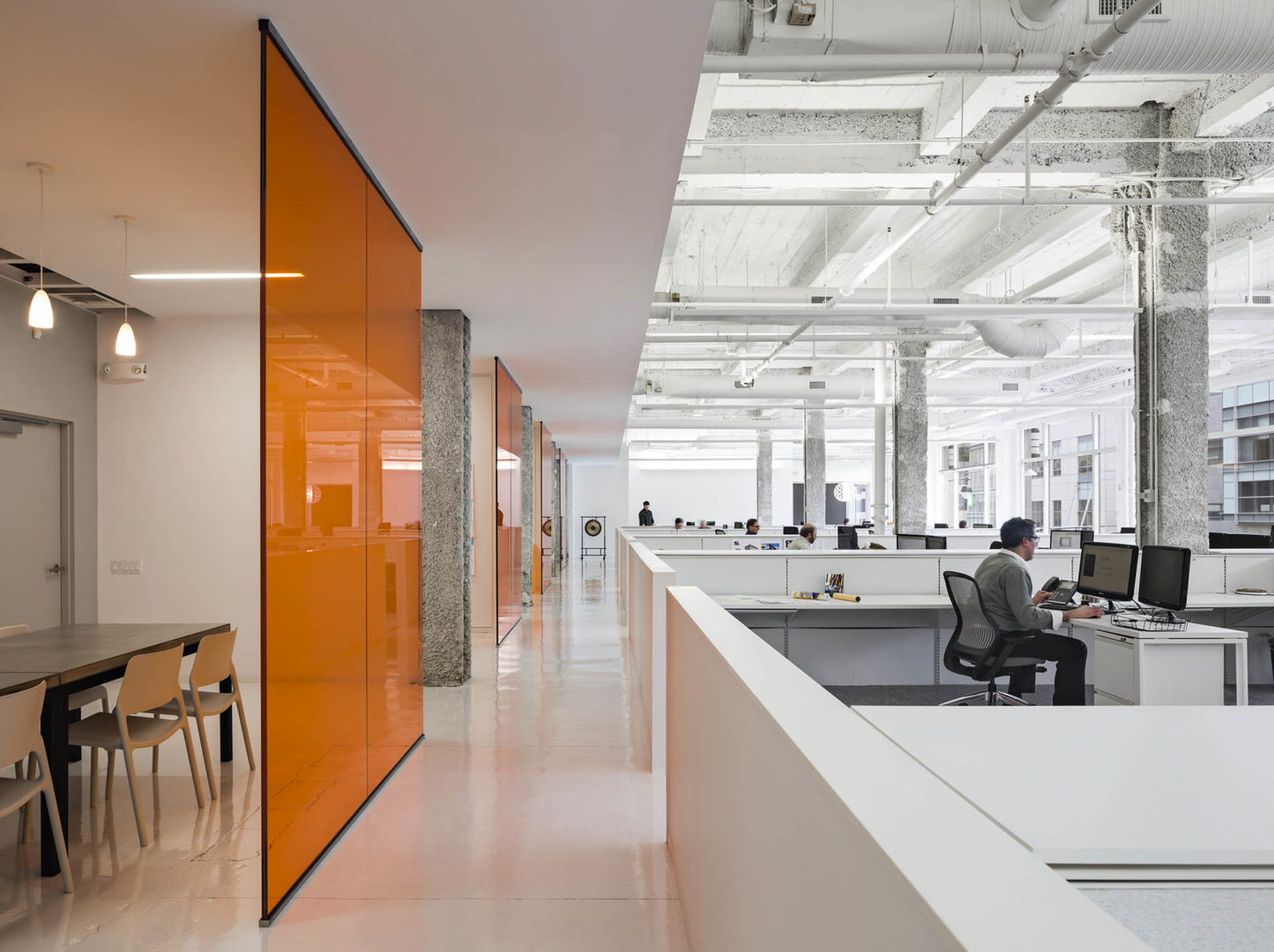 Amenta Emma offices at 242 Trumbull Street, Hartford, Connecticut
We also embrace the natural light that we have and use white paint to bounce daylight deep into the office and brighten far corners. It also allows us to keep many lights off throughout the day, thus reducing energy consumption. Utilization of simple roller shades helps us to manage glare and heat gain from the western sun at the end of the day.
Amenta Emma also has a Wellness Committee to oversee many of our health initiatives. The committee encourages us to get away from our desks during our lunch break, preferably walking outside. Our proximity to Bushnell Park and the "Pratt Street Patio," is embraced by many of our employees. Leaders also organize walking design tours downtown, which are well-attended. Our flexible conference rooms open to become a yoga space on Mondays, and our company offers a fitness stipend to encourage gym membership.
Monday Yoga at Noon in the Hartford office.
We have dual monitors on adjustable height monitor arms, for optimal ergonomic viewing and ease of working. Task chairs have a high level of customization for comfort. We are even looking to expand our number of sit/stand desks, something else we encourage clients to consider.
Every office space needs to be tailored for individual client needs, and some strategies may not be for everyone, but there are many options to enhance productivity while keeping employees happy and healthy as well. It works for us; it can work for you.