The March issue of Architectural Record, which is focused on civic design, extensively quotes Amenta Emma associate principal Robert H. Adams in a CEU article about roller shade fabrics. The article uses our 165 Capitol Avenue project as an example: "[Amenta Emma] had initially decided upon a light-colored shade material, but then realized that the color would appear to infill the punched openings in the 1931 limestone building and therefore detract from the neoclassical facade. 'Instead, we used a darker shade material that is hardly visible from the exterior and preserves the facade of this historical building,' says Adams."
Here is Rob's complete interview with Architectural Record.
Why is it important to select the right roller shade fabric for non-residential interiors?
In addition to controlling light, shade fabric for residential interiors is intended to provide privacy. In the commercial world, we aren't as concerned with privacy as we are with controlling glare. Glare is a major factor that affects the quality of any workspace. View is also an important factor. Selecting the right roller shade fabric openness ratio allows for glare control and still provides a view out of the window.
From a whole-building perspective with regards to how the selection of roller shade fabrics integrate with the building façade, what are some important things that architects need to keep in mind when selecting fabric materials, weaves, openness and color?
It's important to understand that shade material, typically seen as an interior finish, plays a major role in the building façade. Stand in any city and look around. Those beautiful façades that architects and designers labored over are now a mish mash of shades — some up, some down, some halfway, etc. Typically, shade materials that are denser and brighter in color are more apparent when seen from the outside.
Darker, more porous shade materials tend to disappear from the outside, allowing the exterior to present as intended. Our team at Amenta Emma used this technique on the recently completed redesign of the Connecticut State Office Building at 165 Capitol Avenue in Hartford. Initially, we had selected a shade material that was light in color. However, we soon realized that because the exterior of this 1931 limestone building was a series of punched openings, a lighter shade material would appear to infill the punched openings and detract from the neoclassical façade. Instead, we used a darker shade material that is hardly visible from the exterior and preserves the façade of this historical building.
Motorized roller shades with a light sensor can also be used to control the negative effects on the exterior appearance from random heights of shades. The shades on each side of the building can rise or lower in unison depending on orientation and the amount of direct light hitting the building façade.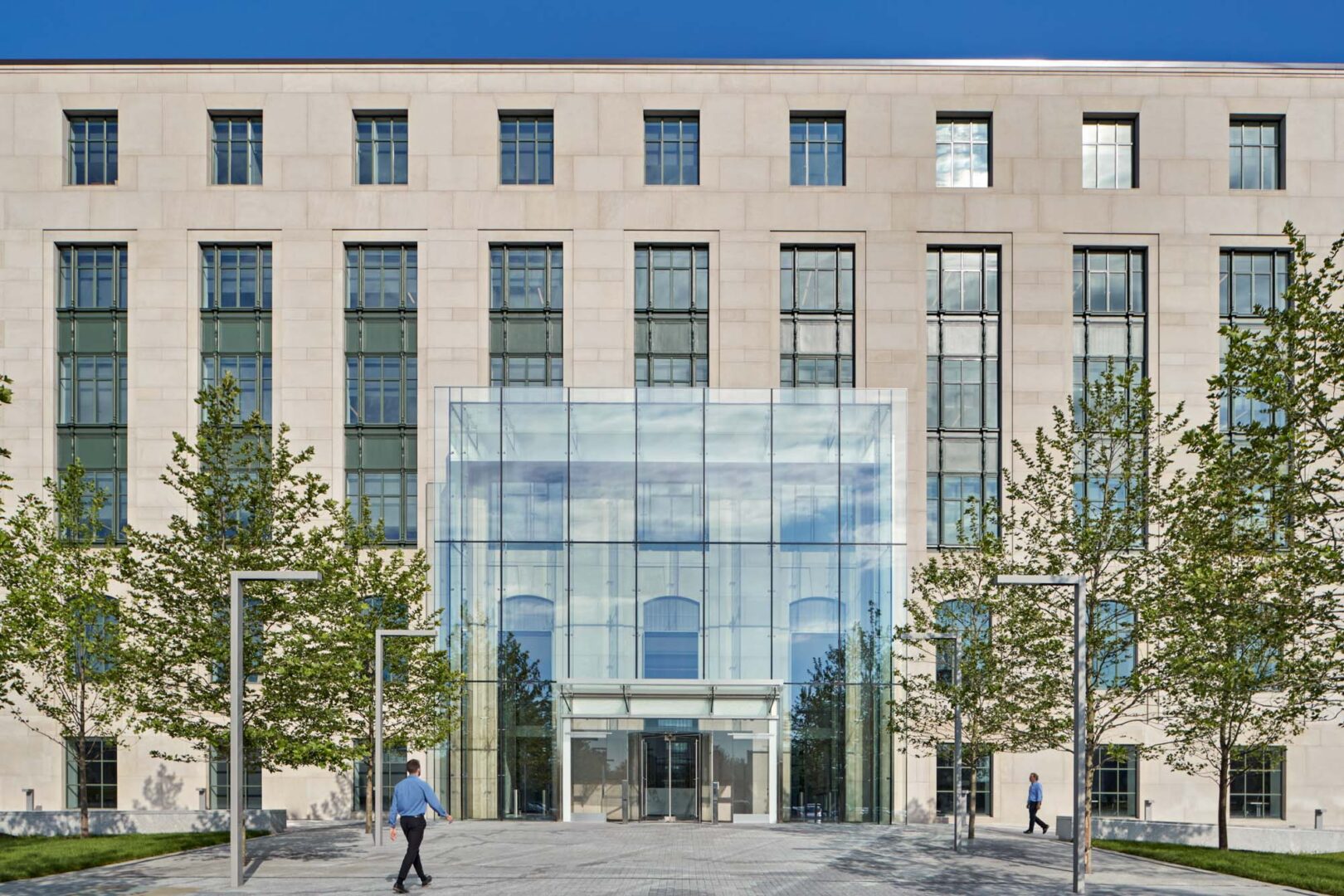 Connecticut State Office Building at 165 Capitol Avenue
How does the building elevation and exterior surroundings impact shade fabric selection?
Commercial spaces are often classified by the amount of glass and the view they provide. If a shade is specified to control glare, but also completely blocks the view, it may do more harm than good to the overall experience of the workplace. Employee wellness is increasingly a consideration when designing a workspace and bringing the outside in is a key component of that. The open weave of a roller shade provides light control but also allows the ability to see out.
Through the shading design process, how do you ensure that important considerations like glare and occupant comfort are properly addressed? For example, are there particular daylight modeling tools that assist with this?
Our team at Amenta Emma uses both Revit and Cove Tool for building energy modeling. These programs allow us to position our buildings anywhere on the planet and accurately visualize how our building interacts with the sun. We use this information to strike that balance between preserving views and providing shading devices that assist with controlling glare. The low sun from the east and west is the hardest to shade architecturally and using roller shades is generally the best method of controlling light for façades facing these directions.
How do the lighting requirements and function of the space impact roller-shade fabric selections?
When a shade fabric is down, it acts as a wall material, contributing to the overall light reflectance of a space. We typically have selected the shade material before finalizing the lighting in order to factor in the amount of natural light entering the space. The color value of the chosen shade material, along with other materials in the space, are given to our lighting consultants who take them into consideration when determining the number and placement of light fixtures.
How frequently are different fabrics specified for different parts of the façade? Can you share a couple examples explaining how the unique requirements of the different locations drove different fabric selections?
In order to create continuity of appearance while accommodating different levels of sunlight, it can help to specify the same color shade fabric but vary the openness factor depending on the façade's orientation. Sunlight from the east and west is low in the sky and tends to penetrate deep into a building. We might choose a shade fabric with 1 percent openness on the east and west sides of a building, 1-3 percent openness on the south side, and 3 percent openness or potentially no shades at all on the north side of a building. Certain spaces might require complete light-blocking shades such as conference and training rooms. Some spaces might require privacy such as medical exam rooms, for which we would specify a shade material with 1 percent openness.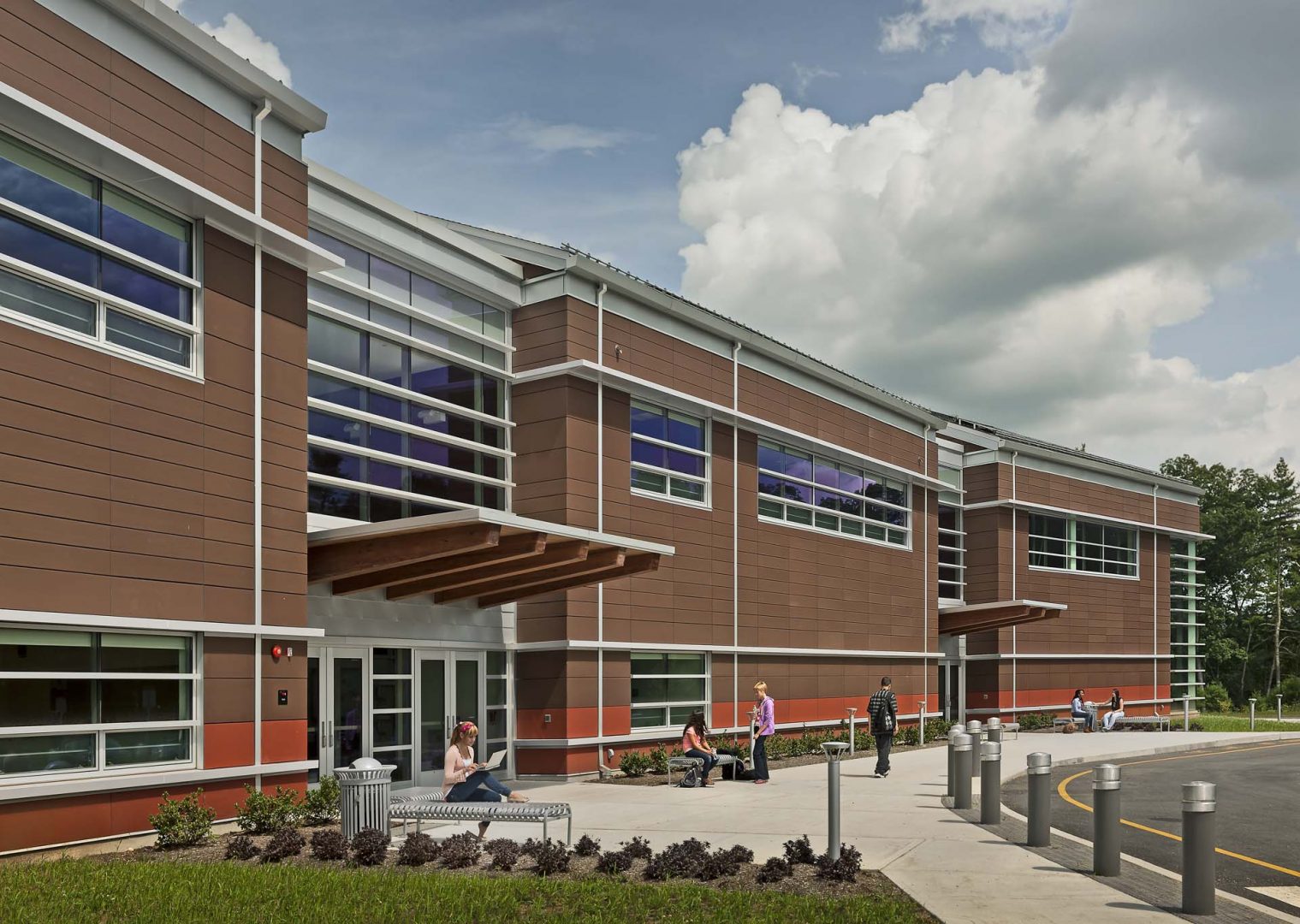 When specifying fabric roller shades, what are the benefits of working with local, domestic fabric suppliers?
Sometimes at the end of a project when you're specifying many different materials, having a relationship with a local distributor can help expedite the process with quick responses to questions, bringing samples to your office, or working through any concerns that arise. Amenta Emma has a local roller shade distributor in Hartford, Connecticut, who knows us very well. We rely on them for estimates, and for projects in the northeast, they will go to the project site to do their own measurements. Using locally fabricated roller shades can help achieve LEED certification by increasing the portion of materials sourced from within 500 miles of the project. Quinebaug Middle College in Danielson, Connecticut, is a LEED Silver project our team designed that includes roller shades fabricated in nearby Long Island City, New York.