It's official. After eight or more weeks of working from home because of the coronavirus pandemic, people can begin going back to the office. But how? It is a confusing landscape. Physical distancing is a new "must" in the workplace, but how can that be achieved effectively? How will cleaning regimens change? New requirements from OSHA, the CDC, EPA and, perhaps, local and state agencies — to say nothing of the myriad of news stories with conflicting reports — raise even more questions and confusion.
As we try to help our clients and others negotiate this new landscape, here are some questions and suggestions to help business owners and property managers make informed decisions about reopening.
Systems
Many offices have been shuttered completely, introducing possible problems to safe operation that are often overlooked. Conduct a facility condition review as soon as possible, including inspecting and perhaps, flushing, water and plumbing systems. Did you shutdown major systems or leave them running? Non-operating systems can invite infestations of rodents or insects.
Indoor air quality is a primary concern as we continue to work under the threat of Covid-19. Changes to HVAC operations, such as controlling relative humidity, enhanced air filters, and increasing outdoor air intake can help reduce airborne exposures. Programming may be required to extend operational cycles of HVAC systems to promote greater circulation of air in the workplace. Lacking control of your office's HVAC systems? Businesses may consider options for indoor air purifiers with HEPA filters.
Design and Space
Conduct a workplace assessment. Knowing that the coronavirus can spread person-to-person through sneezes and coughs, and that the virus may possibly live on surfaces for a time, what physical characteristics are problematic?
What are circulation challenges—things like building entry and exit points, lobby circulation, and elevators? New walking paths and physical distancing markers, identified with clear signage, can minimize person-to-person contact. Will you require a temperature monitoring station for incoming employees? Will the reception area require a sneeze guard?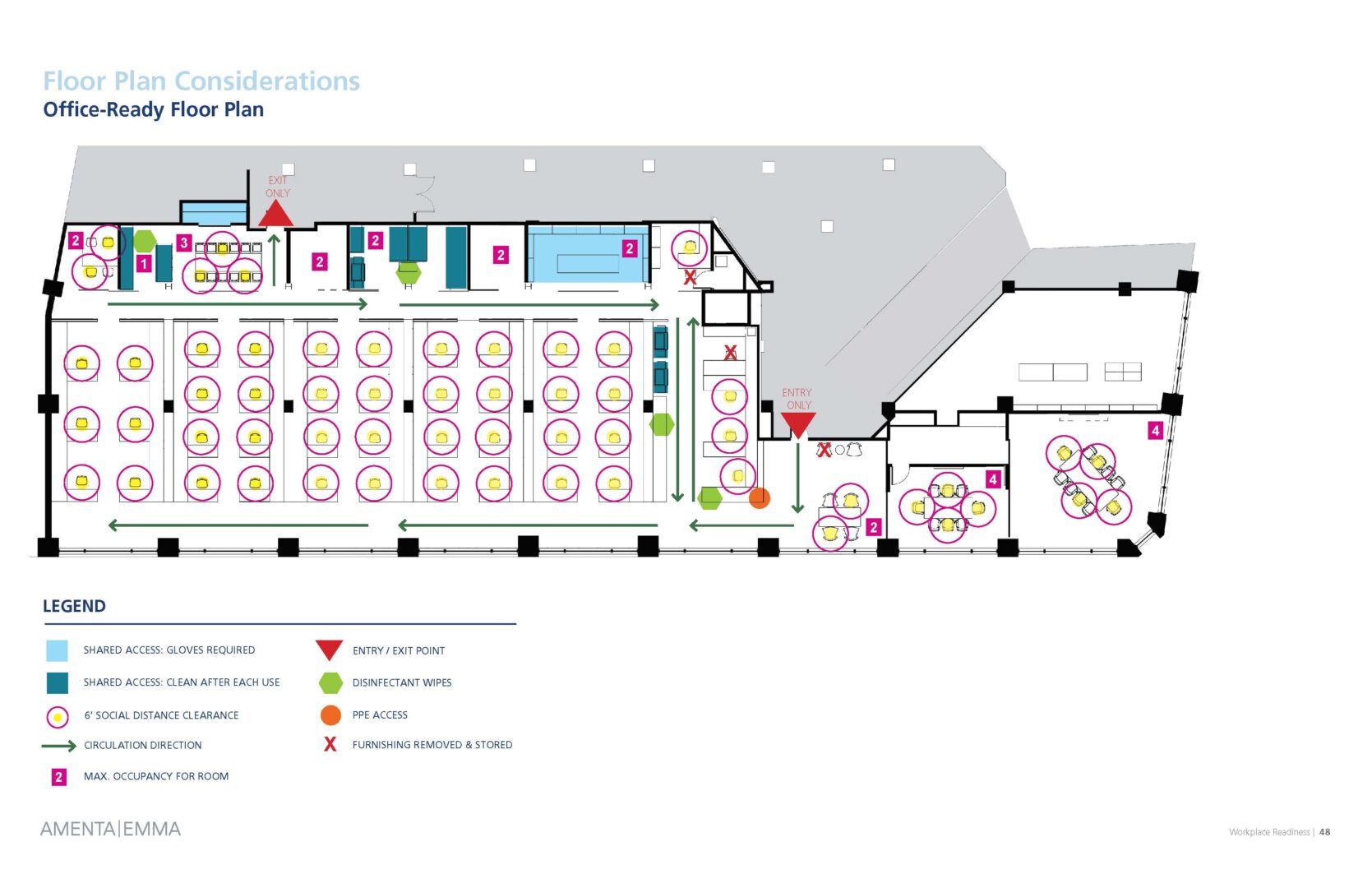 Example of an Office Re-Open Plan developed through our Workplace Readiness Assessment
How many touch points are there — things like doors handles, tables, lighting controls, desks, telephones, computer touch screens, keyboards, copiers, and restroom and kitchenettes fixtures? These are reservoirs for viral pathogens. Motion-activated light switches, automatic door openers, no-touch, infra-red bath and kitchen plumbing fixtures are options. How can conference rooms and huddle rooms be maximized as extra work surfaces to space employees at safe distances? Will new workspace dividers or sneeze guards be necessary?
What materials might need to be changed or updated to tolerate rigorous cleaning—things like carpet, workstation textiles, lounge furnishings. Might new, more cleanable work surfaces be required? Stone and other types of solid surface materials likely will become more common than traditional laminate counters that are porous and can harbor bacteria. Taller glass cubicle dividers can provide better protection while preserving the look and feel of the open plan There are newer anti-microbial products for carpet and textiles available. Cork flooring – a sustainable product that is also naturally antimicrobial and moisture resistant – is a great alternative to carpet or luxury vinyl flooring.
Cleaning
Prior to inviting employees back to work, ensure the workplace is thoroughly cleaned and disinfected, based on current guidance from the CDC & EPA. Evaluate proper products and procedures for successful cleaning protocols, and coordinate with cleaning vendors as necessary. Some surfaces only require soap and water, while others, such as high-touch surfaces, likely will require an EPA-approved disinfectant. Some employers are using electrostatic cleaners that can be sprayed across all surfaces. Be certain to provide critical supplies such as paper products, no-touch trash cans, soap, hand sanitizers, disinfectant wipes, and required PPE.
People
Prepare policies for operational and staff readiness. Having a well-conceived plan to communicate these new "rules" to employees will promote a successful return. This should include a training program to communicate expectations on issues like policies to reduce the spread of disease, safe hygiene practices, masks, physical distancing, cleaning, and how to identify Covid-19 symptoms. Location-specific signage to reinforce best practices is recommended.
This may seem like a daunting list, and at this point in time, we have no idea if some of these issues will be short-term or long-term strategies. You don't have to go it alone. Experts in facilities can help interpret the new rules, and help you develop a plan. The important thing is that everyone feels safe and secure returning to work.